Subscribe for weekly email
We won't send you spam.
In today's fast-paced world, managing schedules efficiently is crucial, and efficient scheduling is the cornerstone of productivity. Tools like Calendly have revolutionized the way we manage our time.
Yet, it's wise to explore alternatives tailored to your unique needs. However, for WordPress users, there are alternatives to Calendly with WordPress integration that can elevate your scheduling experience.
First, let's check out Calendly features and reviews, and then let's dive into one of the top-notch Calendly alternatives that harmonize seamlessly with WordPress.
Calendly review: Features, pros, cons, and reviews
Calendly simplifies the process of coordinating meetings and appointments. It's well-known for its user-friendliness, customization options, and integration capabilities.
Key features of Calendly
Various intuitive features of Calendly have made it a go-to solution for SAAS users over the years. Let's take a quick look at what it offers –
User-Friendly interface: Calendly boasts an intuitive and easy-to-navigate interface, allowing users to set up their availability and preferences with minimal effort
Customizable availability: Users can define their preferred time slots, making it convenient for clients or colleagues to book appointments within those parameters
Integration capabilities: Calendly seamlessly integrates with popular calendar applications like Google Calendar, Outlook, and others, ensuring that scheduled appointments sync with your existing workflow
Automated notifications: The platform sends out automated reminders to both users and clients, reducing the likelihood of missed appointments
Time Zone intelligence: Calendly automatically detects and adjusts for different time zones, eliminating potential scheduling conflicts due to geographical disparities
Meeting types: Users can set up different types of meetings with varying durations and purposes, allowing for flexibility in scheduling
Group scheduling: Calendly facilitates group bookings, making it ideal for team meetings or workshops
Pros and cons of Calendly
Similar to other booking and scheduling tools, Calendly has its share of pros and cons. The comparative table below will provide you with an initial understanding of what to expect from it and what not!
Pros
Cons
1. Time-saving convenience: Calendly eliminates the back-and-forth of scheduling, saving users significant time and effort

2. Improved communication: With automated notifications and reminders, communication is streamlined, reducing no-shows and missed appointments

3. Integration flexibility: Seamless integration with popular calendar applications ensures that scheduled events are reflected in your preferred digital workspace

1. Limited free version: The free version of Calendly has limitations, including fewer integration options and fewer customization features

2. Complex pricing tiers: Some users find the pricing structure confusing, particularly when trying to discern which tier best suits their needs

3. Lack of comprehensive CRM integration: While Calendly integrates with popular CRMs, some users may find that deeper integration options are desired.
Pros & Cons of Calendly
User reviews
The true measure of a product lies in what its users have to say. Let's take a look at some user feedback on Calendly –
Positive feedback
Constructive criticism
1. Users praise Calendly for its ease of use and time-saving benefits.

2. Many appreciate the flexibility and customization options available.

3. Positive comments highlight its effectiveness in streamlining scheduling processes.
1. Some users express a desire for more advanced customization options in the free version.

2. A few users have mentioned challenges in navigating the pricing tiers.
Calendly user's review
Alternative to Calendly: Perfect scheduling tool for WordPress
If you are using WordPress as your CMS, we introduce FluentBooking as the best alternative to Calendly. It comes with all the booking and scheduling options for your WordPress website maintenance.
FluentBooking Features
Some features collectively make FluentBooking a robust and versatile solution for businesses that rely on efficient appointment scheduling and management.
Intuitive booking interface: FluentBooking offers a user-friendly interface that makes it easy for clients to schedule appointments or book services
Customizable booking pages: Users can personalize their booking pages to match their brand, allowing for a seamless and professional client experience.
Calendar integration: The platform syncs with popular calendars (e.g., Google Calendar, Outlook) to prevent overbooking and ensure schedule accuracy
Multiple time zones: Businesses with multiple locations can manage bookings for each location separately within the same platform
Group meetings: FluentBooking enables clients to book group sessions or classes, making it ideal for fitness studios, educational institutions, and event organizers
Service customization: Users can define specific services, set their duration, and assign individual staff members or resources to them
Resource allocation: Allocate resources (e.g., meeting rooms, equipment) to specific services or appointments, ensuring everything is available when needed
Automated reminders: FluentBooking sends out automatic notifications and reminders to clients and staff, reducing no-shows and enhancing communication
Payment integration: Users can collect payments for services or appointments through integrated payment gateways, providing a seamless transaction process
Custom fields and forms: Create custom fields and forms to gather specific information from clients during the booking process. Deep-integrated Fluent Forms enables you to create multiple forms as well as lead routing and contact management.
Reporting and analytics: Access detailed reports and analytics to track bookings, revenue, and other relevant metrics, allowing for data-driven decision-making
API and integration support: FluentBooking offers API access, allowing for further customization and integration with other software and platforms.
White labeling and branding: Customize the platform with your brand's logo and color scheme, giving clients a consistent and branded experience.
Email communication: Communicate with clients through automated email notifications, keeping them informed about their appointments. Deep integration with FluentCRM makes it one of the best scheduling plugins ever.
Discover more about FluentBooking features
Calendly vs. FluentBooking
Having explored the features of both FluentBooking and Calendly, it's clear that they excel in their own ways, distinguishing themselves from the competition. However, let's delve into a concise comparison of their features to assist you in making an informed decision.
| Features | | |
| --- | --- | --- |
| WordPress Integration | remove | check |
| User-Friendly Interface | check | check |
| Landing page mode | remove | check |
| Salesforce and CRM integrations | check | check |
| Custom Workflow | check | check |
| Lead Routing | check | check |
| Payment Integration | check | check |
| Email Notification | check | check |
| Meeting Poll | check | remove |
| Rescheduling | check | check |
Final Thoughts
Ultimately, the best choice for booking tools will depend on your specific business needs, industry, and preferences for customization and branding. Remember that efficient scheduling is half the battle.
For WordPress users, FluentBooking is one of the easiest and fastest booking plugins that empowers you with all aspects of your scheduling and booking. And if you're following WPManageNinja and the Fluent marketing ecosystem, it's a gift for you to unlock one more milestone.
Hopefully, this article helped you with having the Calendly alternative you searched for. You can give FluentBooking a free spin before upgrading to the Pro version. Let us know your thoughts in the comment section below.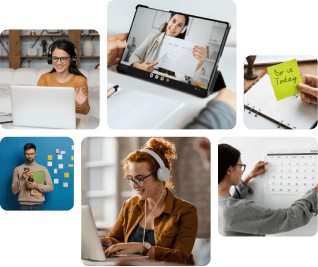 Book appointments the Fluent Way!