Get More Done with
FluentBooking Integrations
Collect information, automate repetitive tasks, keep your calendar updated, and more with our advanced integrations. Inject efficiency into your workflow with FluentBooking and turn every meeting into a productive one!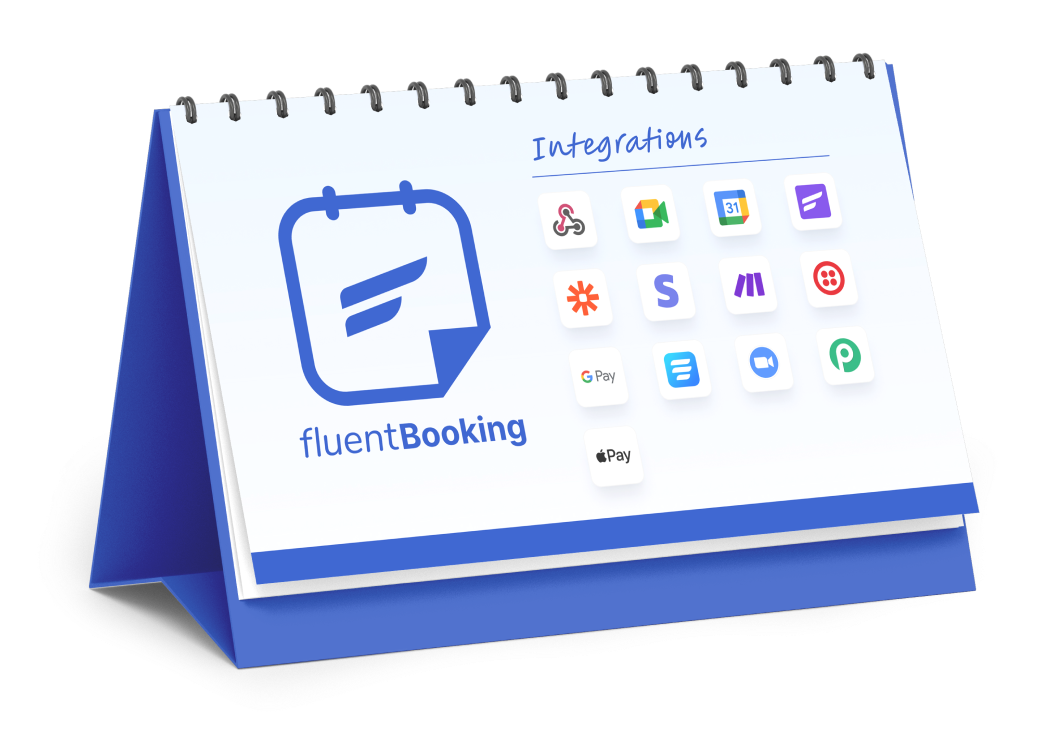 Supercharge FluentBooking with Integrations
Get more done with less work by connecting your form, CRM, payment, and more to FluentBooking. Optimize your meetings and boost your workflow with FluentBooking!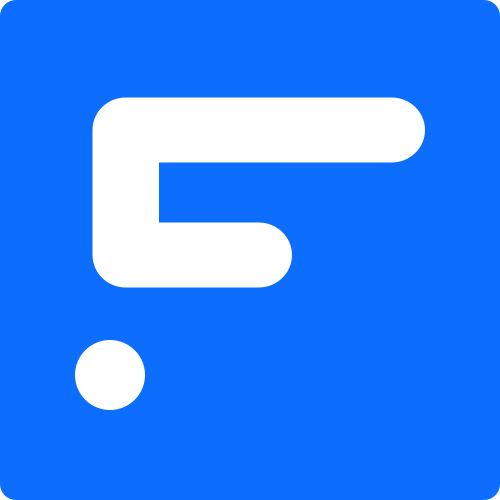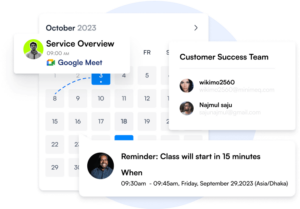 Smart Integrations to Optimize Your Workflow
Google Calendar Integration
Say Goodbye to Scheduling Conflicts
Stay updated on the go with our Google Calendar integration and say goodbye to any scheduling conflicts with two-way synchronization!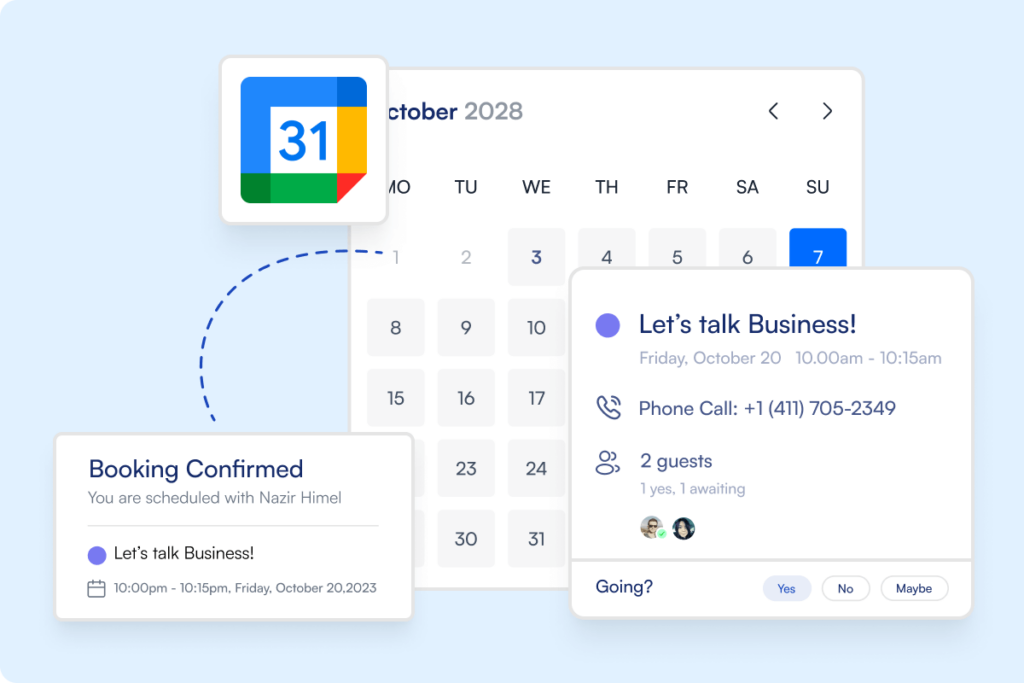 Bookings Straight to Your Google Calendar
Keep your Google Calendar updated with appointment bookings with all the relevant information and stay updated on the run with our real-time Google Calendar integration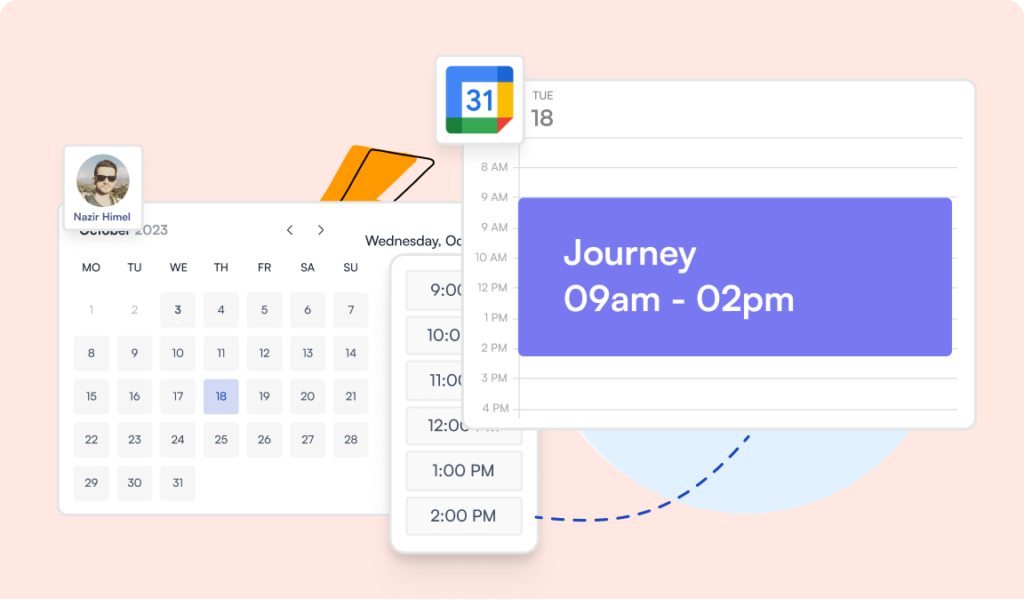 Say Goodbye to Scheduling Collisions!
Scheduled an appointment on FluentBooking or booked outside? Say goodbye to any scheduling collisions by automatically keeping both your calendars updated!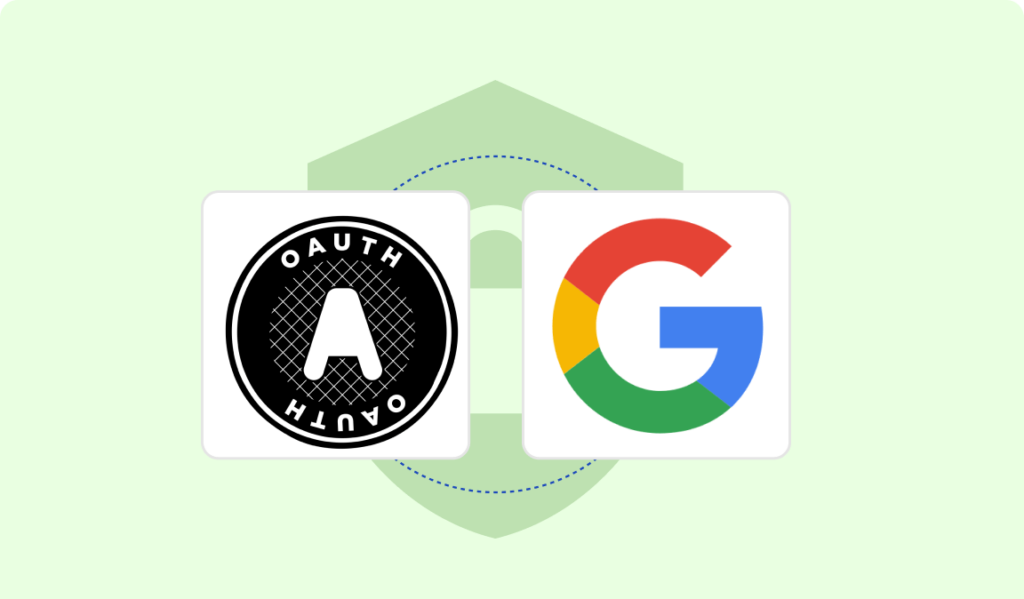 Secure OAuth Integration
Integrate FluentBooking with Google Calendar through Google's recommended OAuth integration and spend less time worrying over data protection!
Google Meet Integration
Create Virtual Meetings at Scale
Simplify URL sharing and streamline your virtual appointments with our Google Meet integration.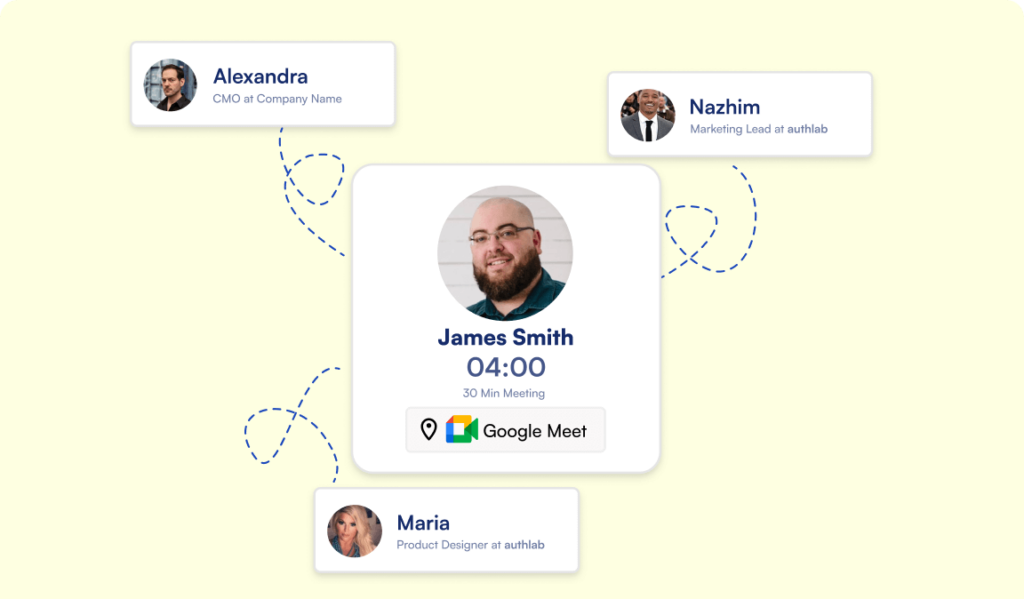 Simplify Virtual Meetings
Instead of exchanging back-and-forth emails, simply choose Google Meet and let FluentBooking take care of the rest!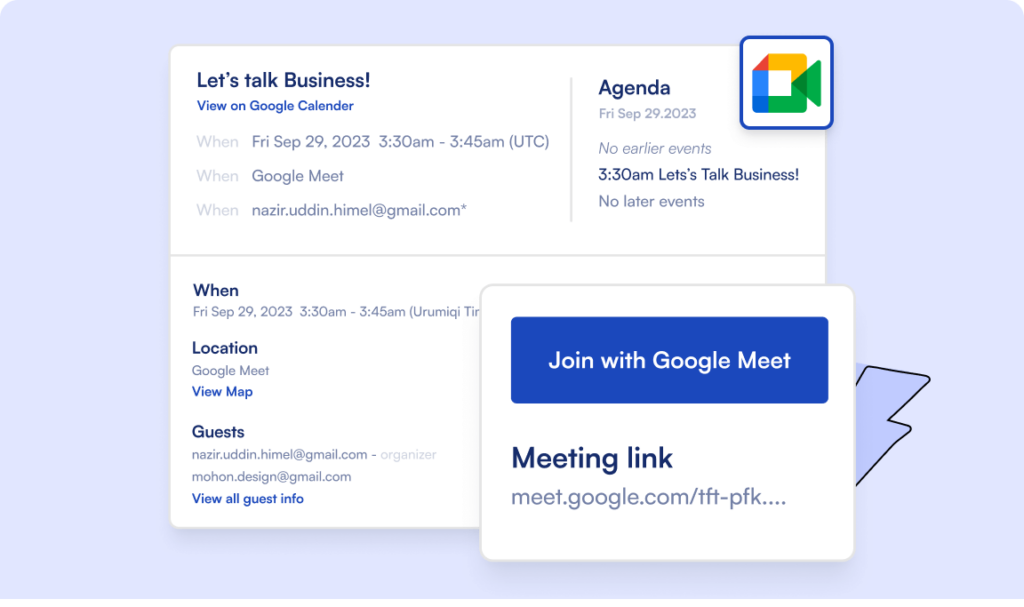 Automated G-meet URL Sharing
Whenever your clients book a Google Meet appointment, G-meet URL will be shared with both attendees automatically!
Smarter Scheduling, Seamless Meeting
Arrange any kind of in-person or virtual meetings —without the worry of scheduling conflicts!
Zoom Integration
Simplify Zoom Conferencing
Stay updated about your upcoming meetings automate meeting communications, and arrange Zoom meetings effortlessly!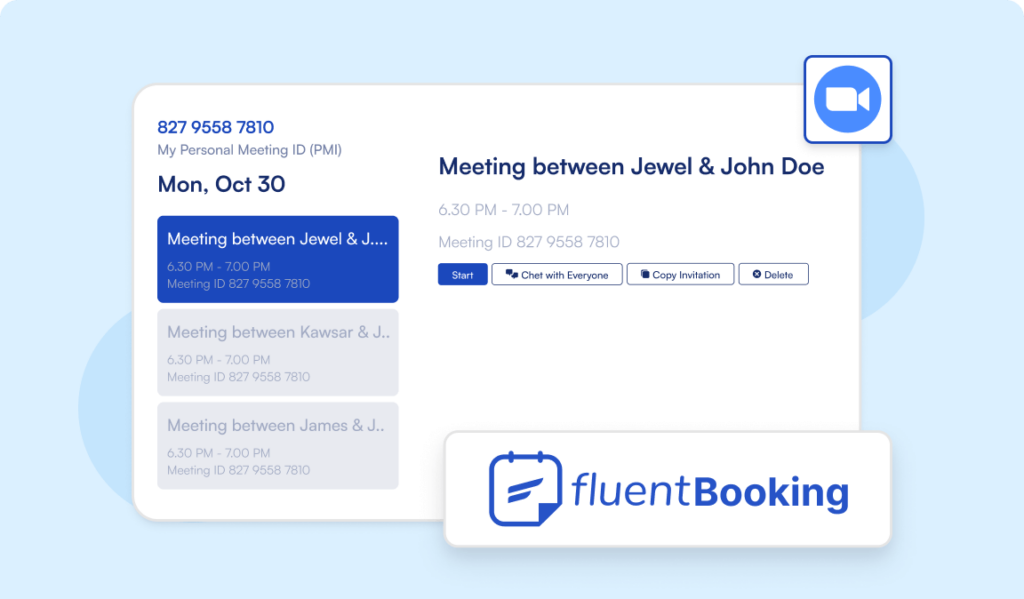 Meetings Straight to Your Zoom Client
Easily integrate your Zoom account with FluentBooking in a secure way and get all the meeting updates on your Zoom client.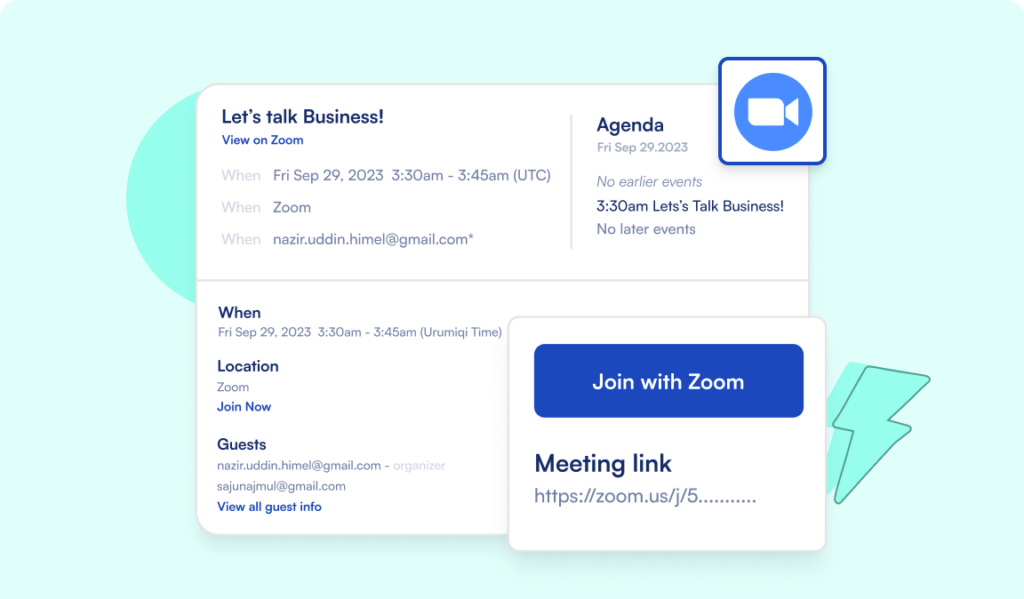 Goodbye Pre-appointment Communications!
Let FluentBooking take care of appointment communications. Automatically share Zoom URL via email notification and ensure your attendees are on time.
Stripe Integration
Get Paid for Your Time
Connect FluentBooking with your Stripe account and get paid for your time. Sell personal services or prevent fraudulent bookings with partial payments!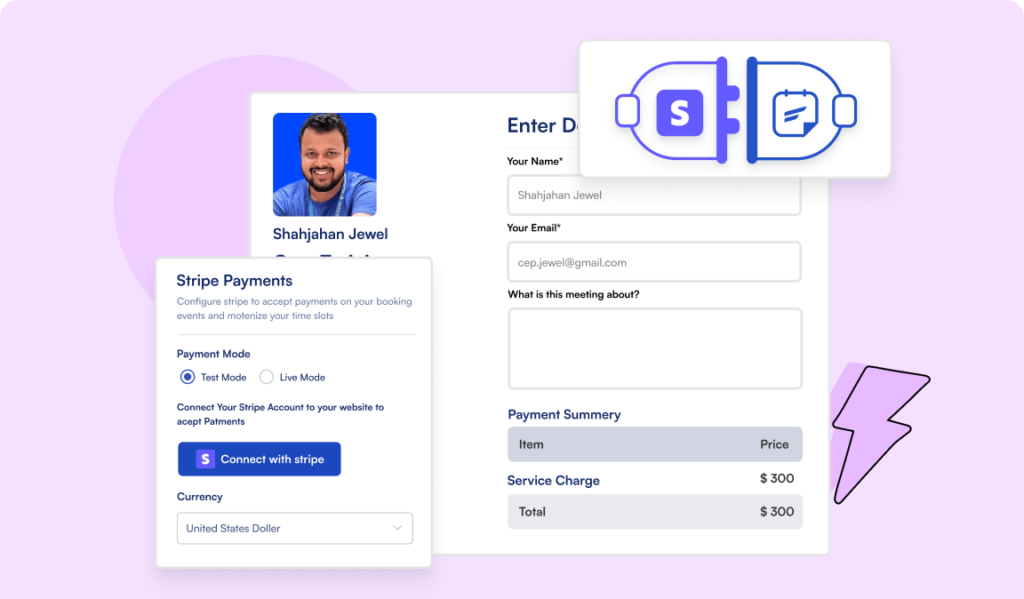 Integrate in One-click!
Easily connect your Stripe account and start accepting payments via Stripe. It's as easy as clicking the 'Connect' button!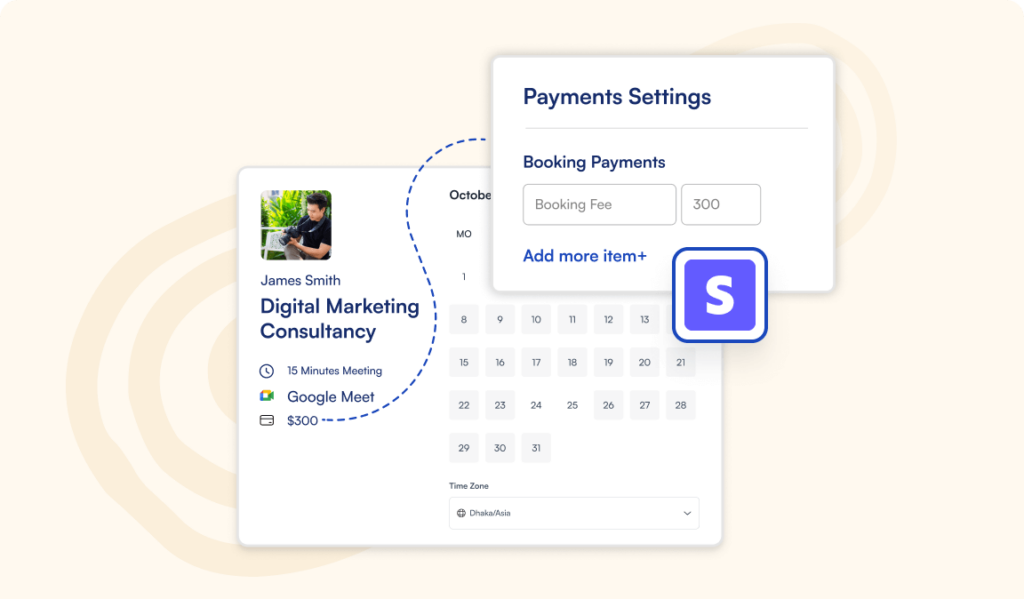 Easily Charge for Appointments
Get paid for your service or prevent fraudulent bookings with partial payments. Charge for your service the easy way!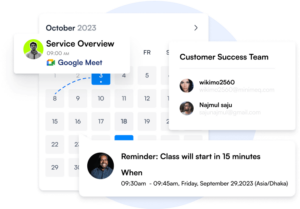 Effortless Appointments, Seamless Payments
Fluent Forms Integration
Design Smarter Appointment Booking Forms, Faster
Ditch boring appointment booking forms and switch to a smarter, faster appointment booking form with Fluent Forms integration!
Beautiful Forms at Your Fingertips!
Optimize your appointment conversions by giving your forms a stunning look using Fluent Forms. Embed FluentBooking calendars on contact forms, multi-step forms, and more with a single click!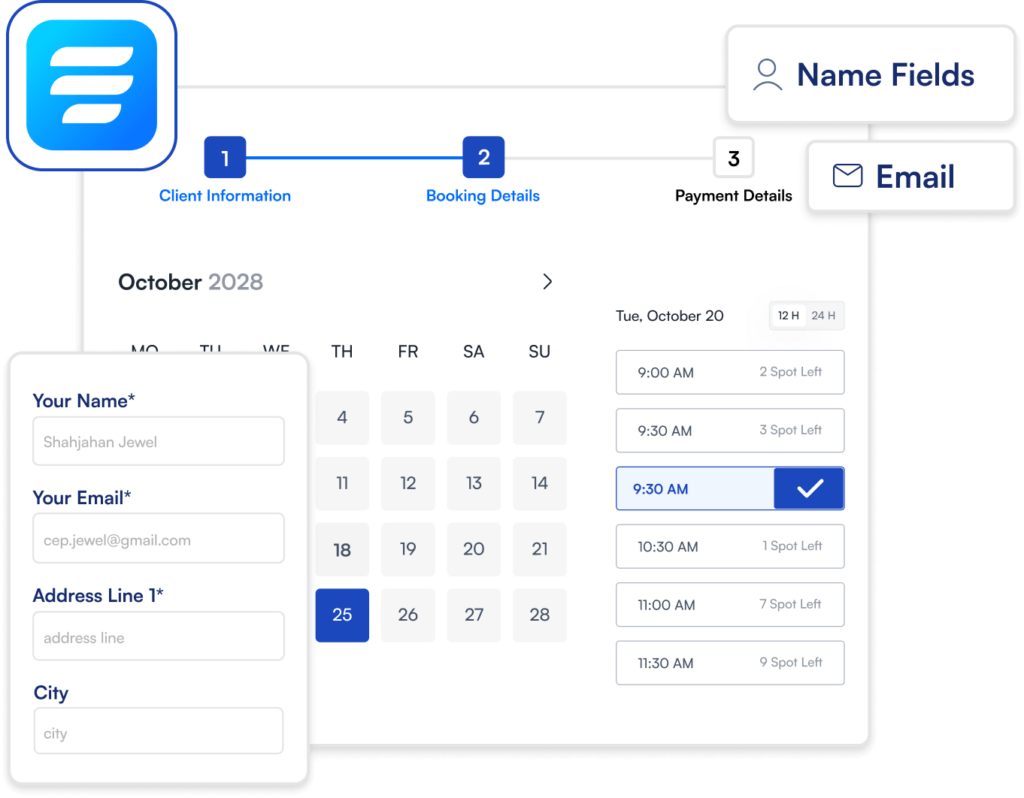 FluentCRM Integration
Grow Your Business with Email Automation
Simplify email communication and promotional outreach for your business. Integrate with your favorite email automation tool and maximize your business potential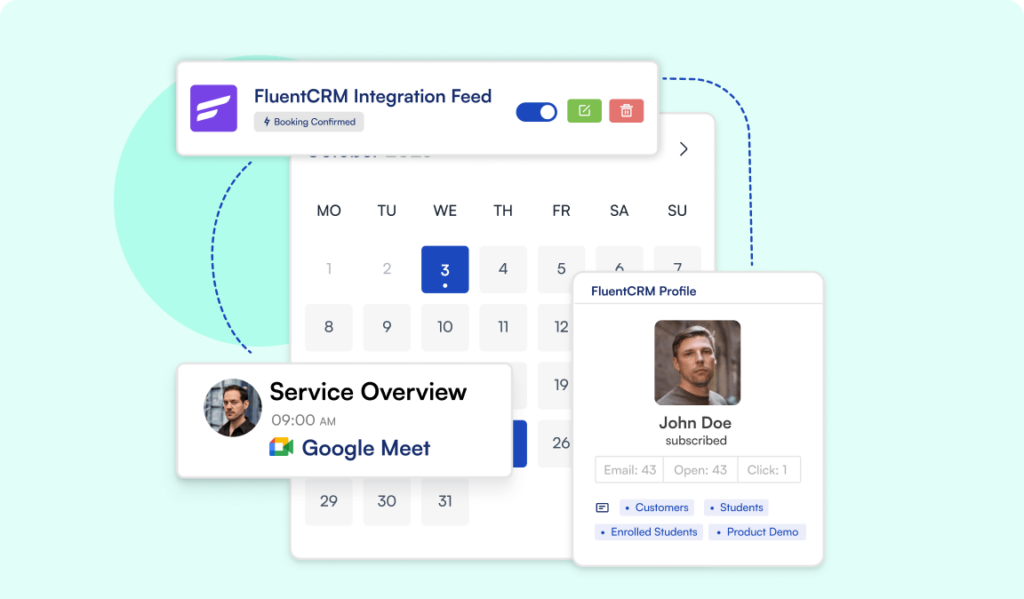 Generate High-quality Leads
Attract high-quality leads by letting clients book product demos, service overviews, and more, and send them to FluentCRM for further communication.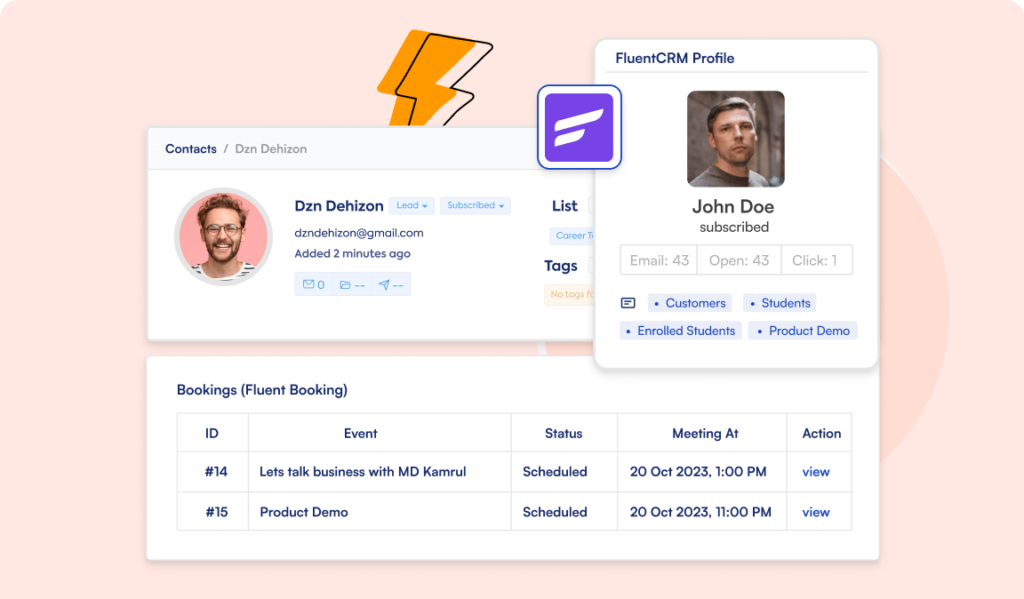 See Who You're Interacting with
Discover your leads and see who you're interacting with —in detail. Harness the power of attendee data and monitor leads effortlessly!
Guide Your Prospect's Buyer Journey
Start nurturing your client's interest even before your meeting takes place, and close more deals effortlessly!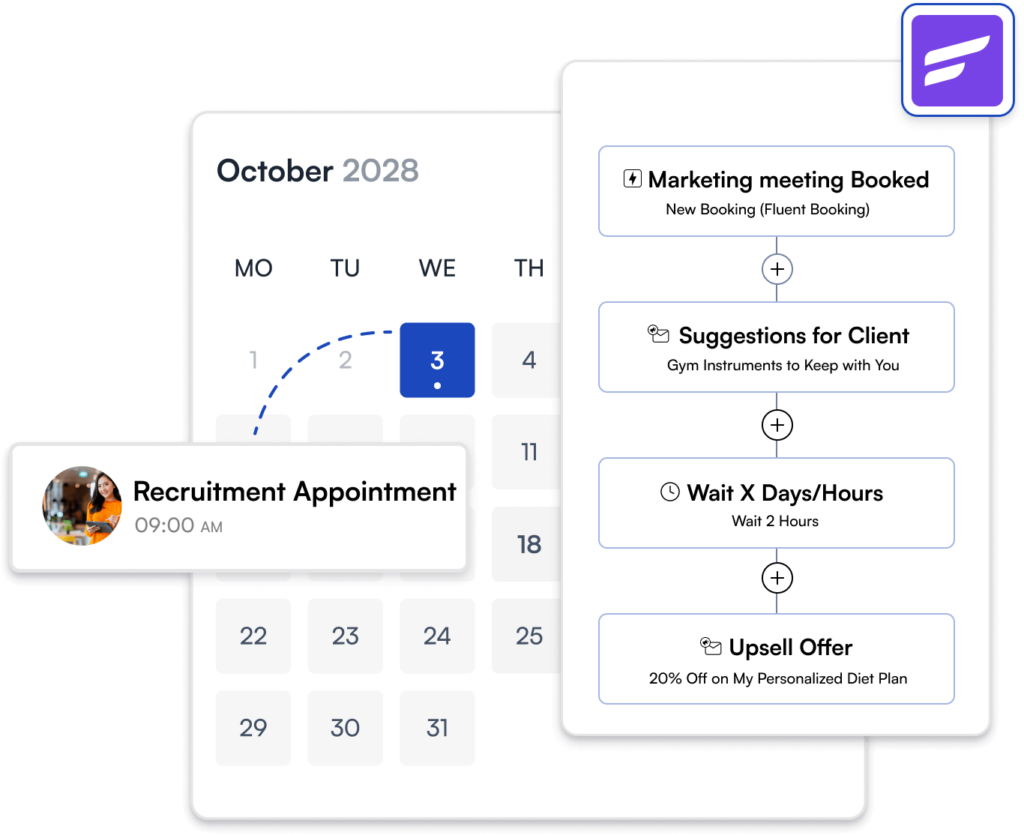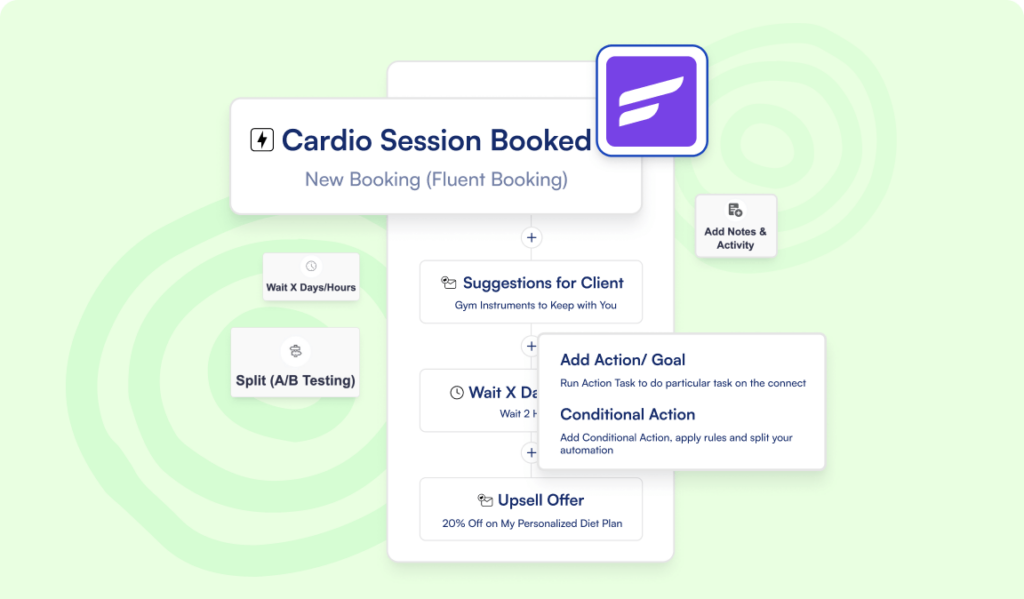 Connect Right from the Start
Give your best first impression when someone chooses to meet you. Greet them with a high-quality customer experience and start nurturing your interest.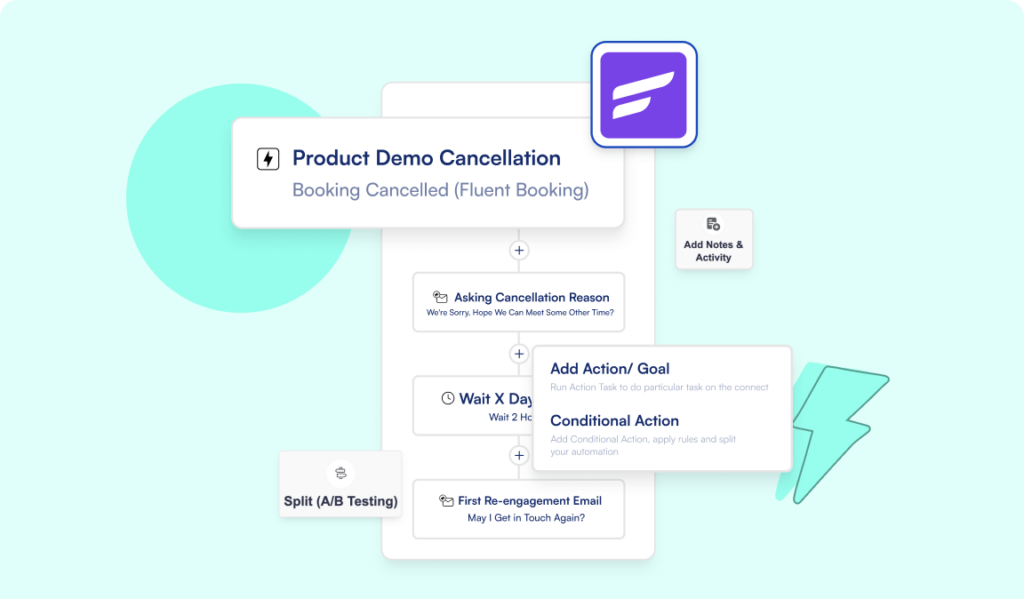 Re-establish Broken Communications
Gone are those days of feeling ghosted after someone cancels an appointment. Re-establish your broken communications effortlessly with FluentCRM!
Twilio Integration
Enjoy the Convenience of SMS & WhatsApp Notifications
Notify meeting attendees via SMS and WhatsApp and keep your clients notified. Stay in the loop, never miss a beat!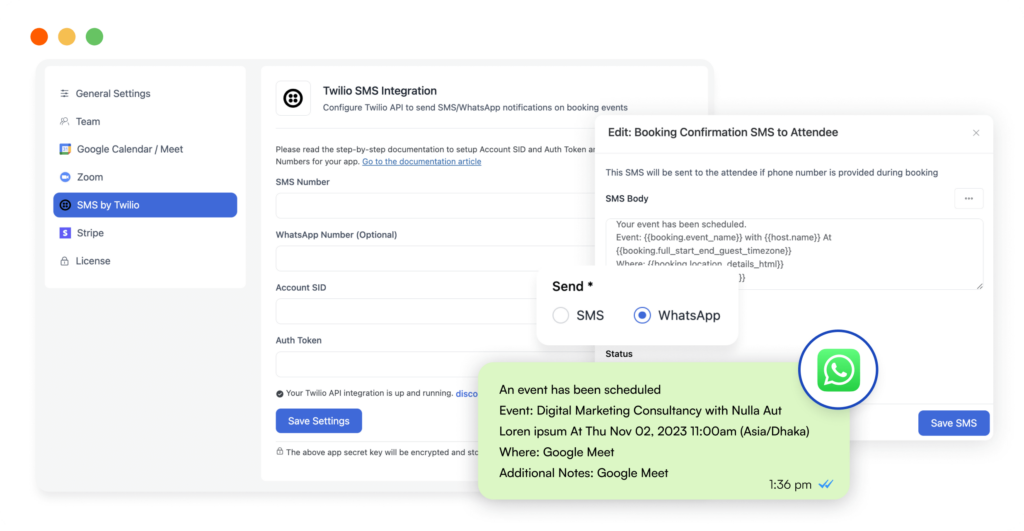 SMS and WhatsApp Notifications
Connect your Twilio account to FluentBooking and start leveraging SMS and WhatsApp for notifications. Send any type of notification effortlessly to your attendee's phone and avoid no-shows like a pro!
Optimize Your Appointments for Growth and Revenue
Boost your appointment conversion, and turn your conversations into conversions and revenue!
WPFusion Integration
Unleash the Power of WordPress Automations
Automate your events, e-Commerce, memberships, learning management, and more with WPFusion Integration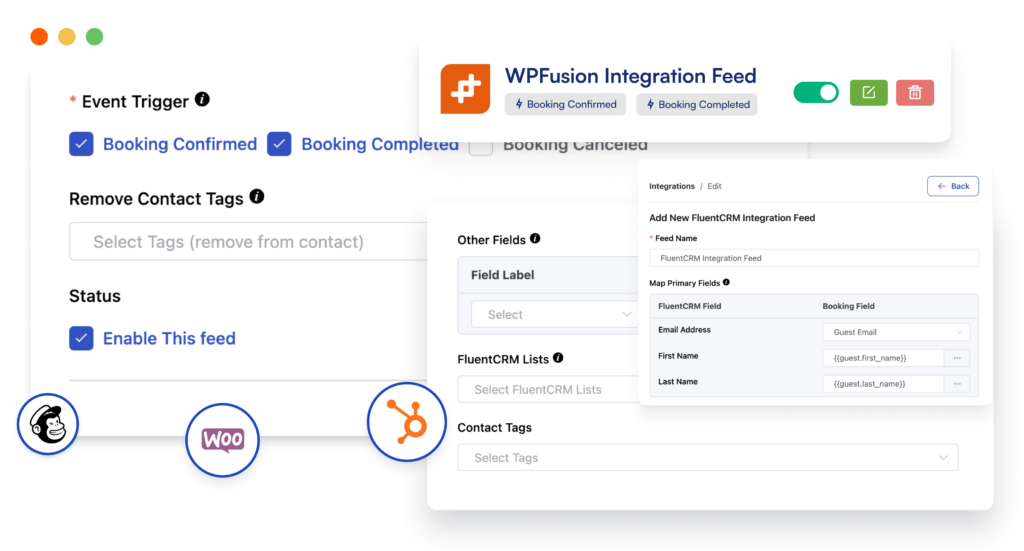 Optimized WordPress Workflows Await
Ditch manual work for workflow automation, start utilizing FluentBooking-WP Fusion integration. Enjoy the park of unlimited WordPress automations and integrate your events with your eCommerce, membership, events, learning management, and more!
G-Pay Integration
Unlock Mobile Payments
Connect with Stripe and leverage G-Pay to accept payments for your appointments
Get Paid Quicker, Faster!
Enable mobile payments by connecting your Stripe account with G-Pay and get paid quicker and faster for your appointments.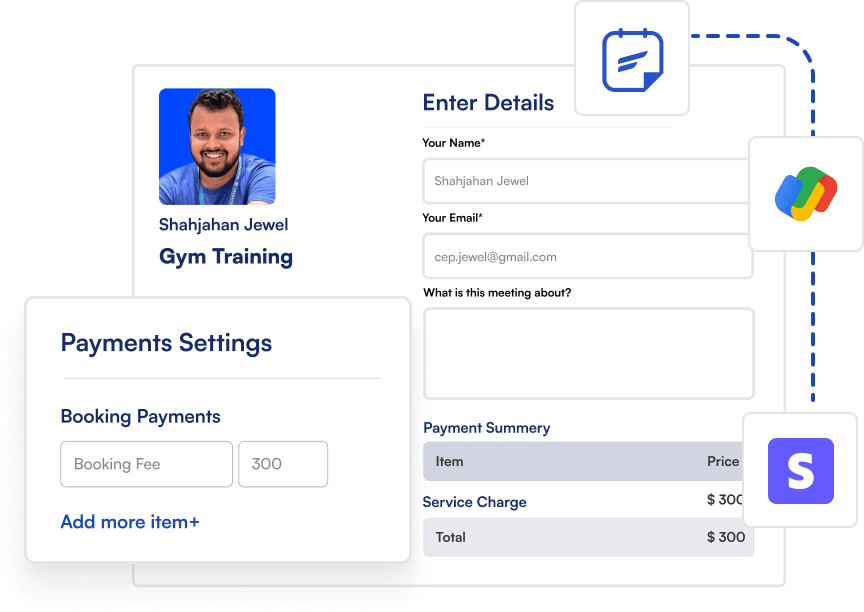 Webhook Integration
Go Limitless!
Don't mind going through a bit of technicality? Unlock the world of integrations with Webhooks!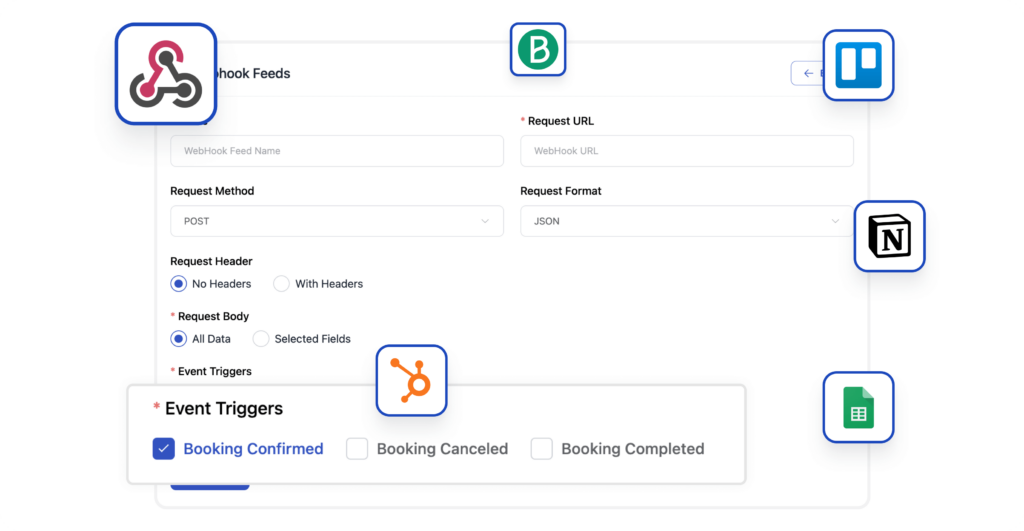 Unlock the World
Integrate any webhook-supported tool with FluentBooking and harness the power of infinite integrations with your appointment scheduling tool!
Apple Pay Integration
Simplify Mobile Payments
Go mobile with Stripe integration and let people pay for your appointments with Apple Pay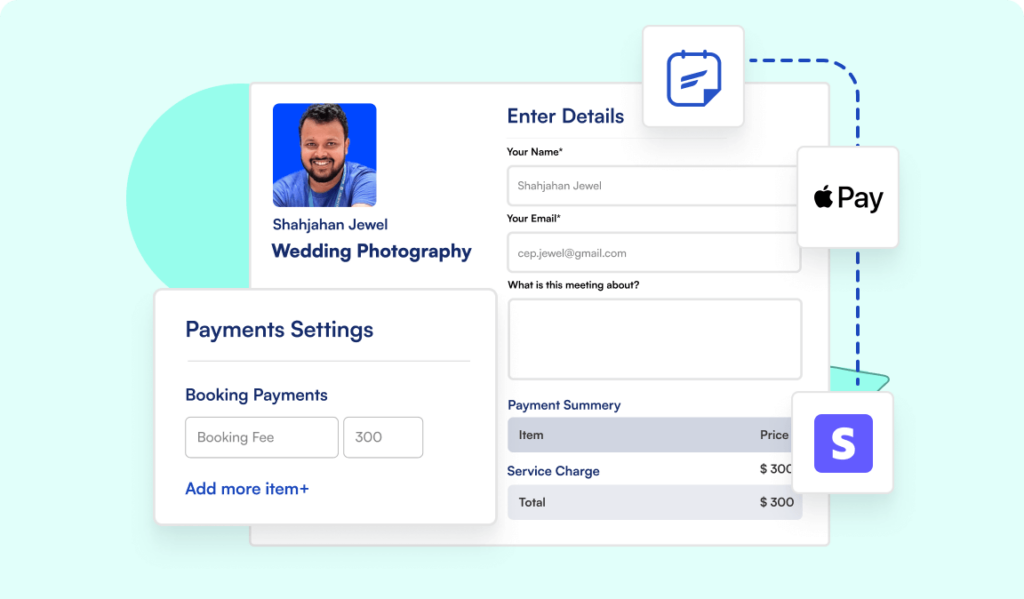 Let People Pay from Anywhere, Anytime!
Simplify mobile payments for your appointments with our Stripe integration. Connect your Stripe account with Apple Pay and let your clients pay from anywhere, anytime!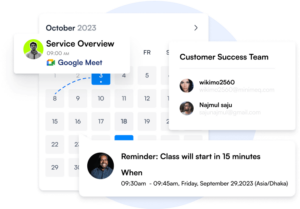 Optimize Your Appointments for Growth and Revenue
Zapier Integration
Simple Automations, Powerful Workflows
Get access to 1000+ Zapier Integrations and thousands of automations!
Unlock the World
Integrate any webhook-supported tool with FluentBooking and harness the power of limitless integrations with your appointment scheduling tool.
Pabbly Integration
Scale Your Business
Connect your appointments to hundreds of Pabbly apps and give your business the workflow boost it deserves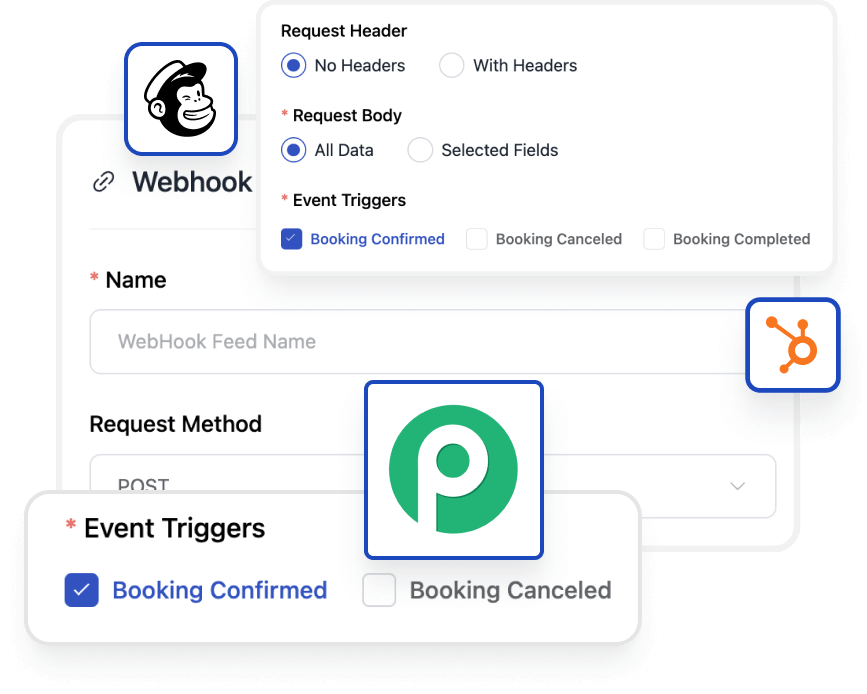 Effortless Task Automation!
Do more with your appointments by connecting with hundreds of Pabbly Connect Integrations. Automate simpler and scale your business faster!
Make Integration
Build Your Imagination
Build whatever you can imagine with Make + FluentBooking. Automate workflows better and grow your business faster.
Make Your Integrations
Employ our webhooks to integrate hundreds of Make apps with FluentBooking and deploy them for effortless workflow automation!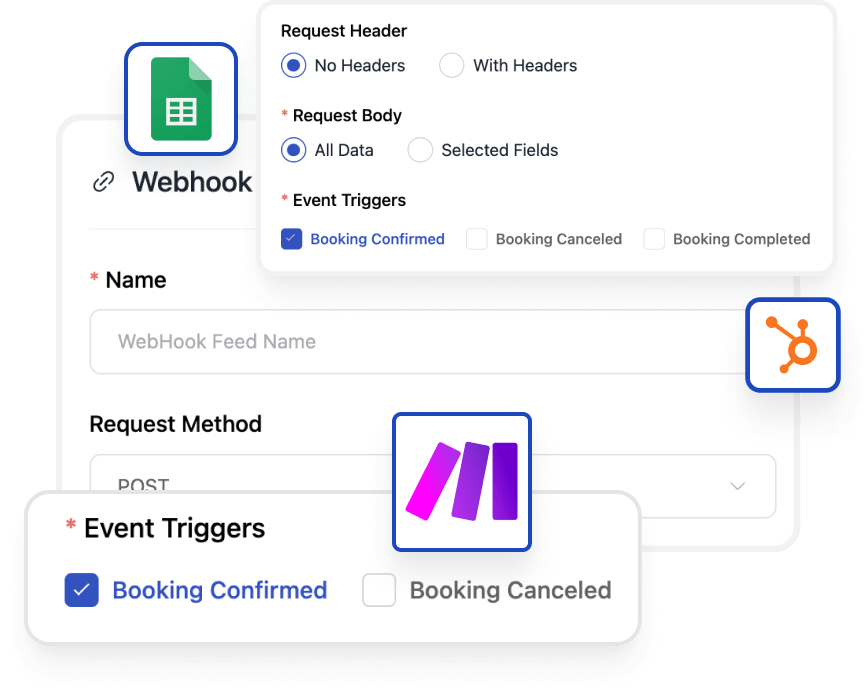 Coming Soon…
WooCommerce Integration
Twilio Integration is coming soon. Stay tuned for the update!
Coming Soon…
Twilio Integration is coming soon. Stay tuned for the update!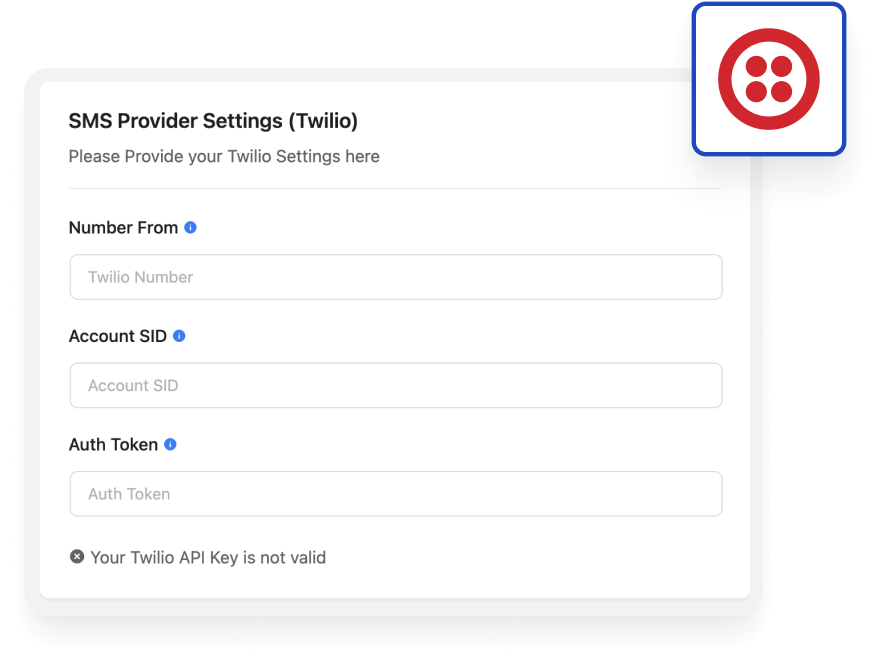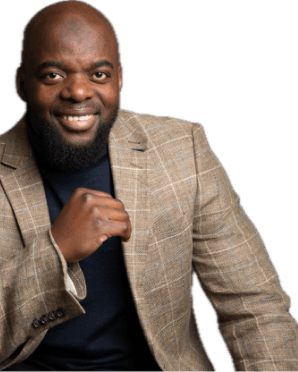 Finally, a fantastic and easy way to create bookings in WordPress. Another great opportunity for me to make even more money as an entrepreneur. It's very easy to use and integrates seamlessly with Fluent Forms for creating advanced booking forms and FluentCRM for email automation. What a game-changer, I highly recommend FluentBooking.
Augustine Mak
Entrepreneur/Educator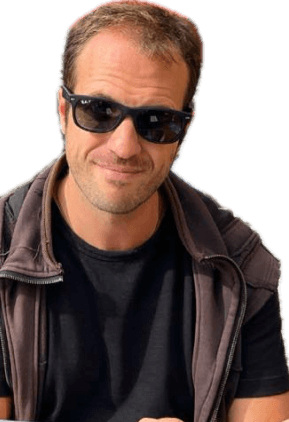 There are a couple of booking solutions for WordPress but they tend to be complicated, buggy, or require WooCommerce. FluentBooking is the first plugin I've used that can seriously compete with cloud solutions like Calendly (even in the first release! 🤩) It was easy to set up and I was able to accept new appointments with just a few clicks. Thanks WPManageNinja! 🧡
Jack Arturo
Founder of WPFusion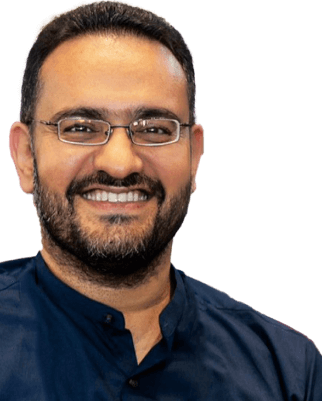 It is a simple yet powerful solution to get going with online bookings and appointments on a WordPress website. Web agencies should find this useful for their own use and on their client websites. If full control and ownership of data on the WordPress platform is your thing and you are looking to set up an efficient online booking system, FluentBooking solution should feature high on your list.
Davinder Singh Kainth
Founder, The WP Weekly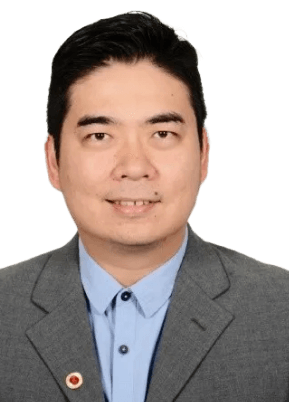 FluentBooking is a solid booking form plugin that allows you to receive paid and free bookings quickly. As it comes from WPManageNinja, I thoroughly recommend the plugin as it will grow in features with time. The plugin is solid and ready for clients needing a booking form feature. Personally, I can't wait to see what's in store for FluentBooking. Don't miss out on FluentBooking. Grab yourself a license today 🙂
Leo Koo
Agency Owner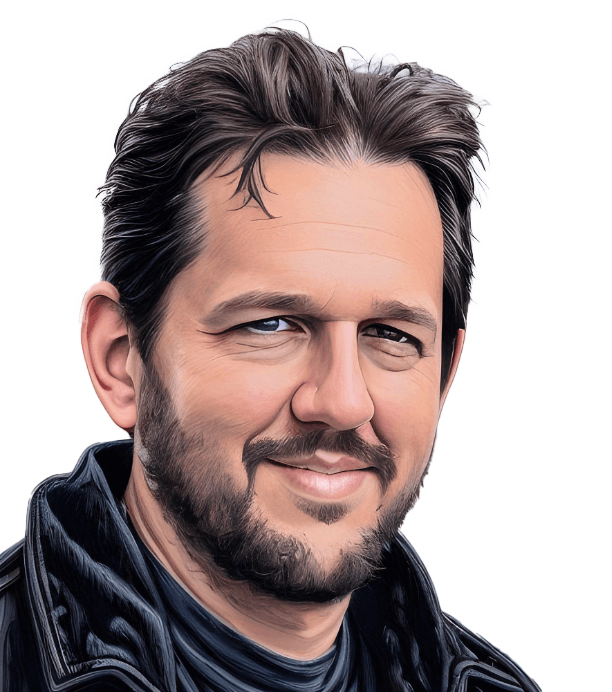 Happy to see FluentBooking come out. While it'll work standalone, combining it with FluentCRM and Fluent Forms makes a perfect trifecta for so many online businesses. I swear, before too long, I'll be using almost all Fluent tools. 🙂
David Risley
Founder, Blog Marketing Academy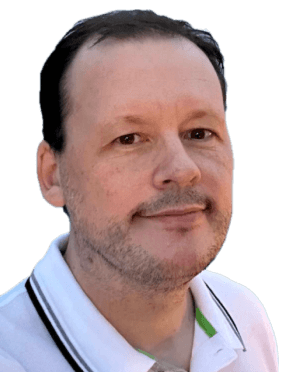 They've done it again! The Fluent team have yet again delivered what is to be a very promising new WP plugin. Successfully taking the ease of taking bookings via the web, but putting it firmly under your control on your own website without expensive SaaS fees. These guys know exactly what their customers want and deliver time and time again. A++
Christopher Hughes
Founder, Simply Cruises
All at a Flat Pricing That's Hard to Refuse!
FluentBooking is not just about smart features, our pricing is also hard to refuse.
$999

$

499

SAVE 50%



Lifetime Priority Support

$499

$

249

SAVE 50%



Lifetime Priority Support

$199

$

99

SAVE 50%



Lifetime Priority Support





Google Calendar Integration


Notifications and Reminders






Frequently Asked Questions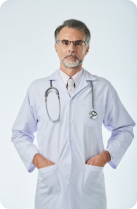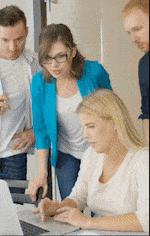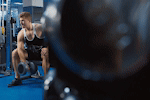 Appointment Booking for Busy Professionals
FluentBooking