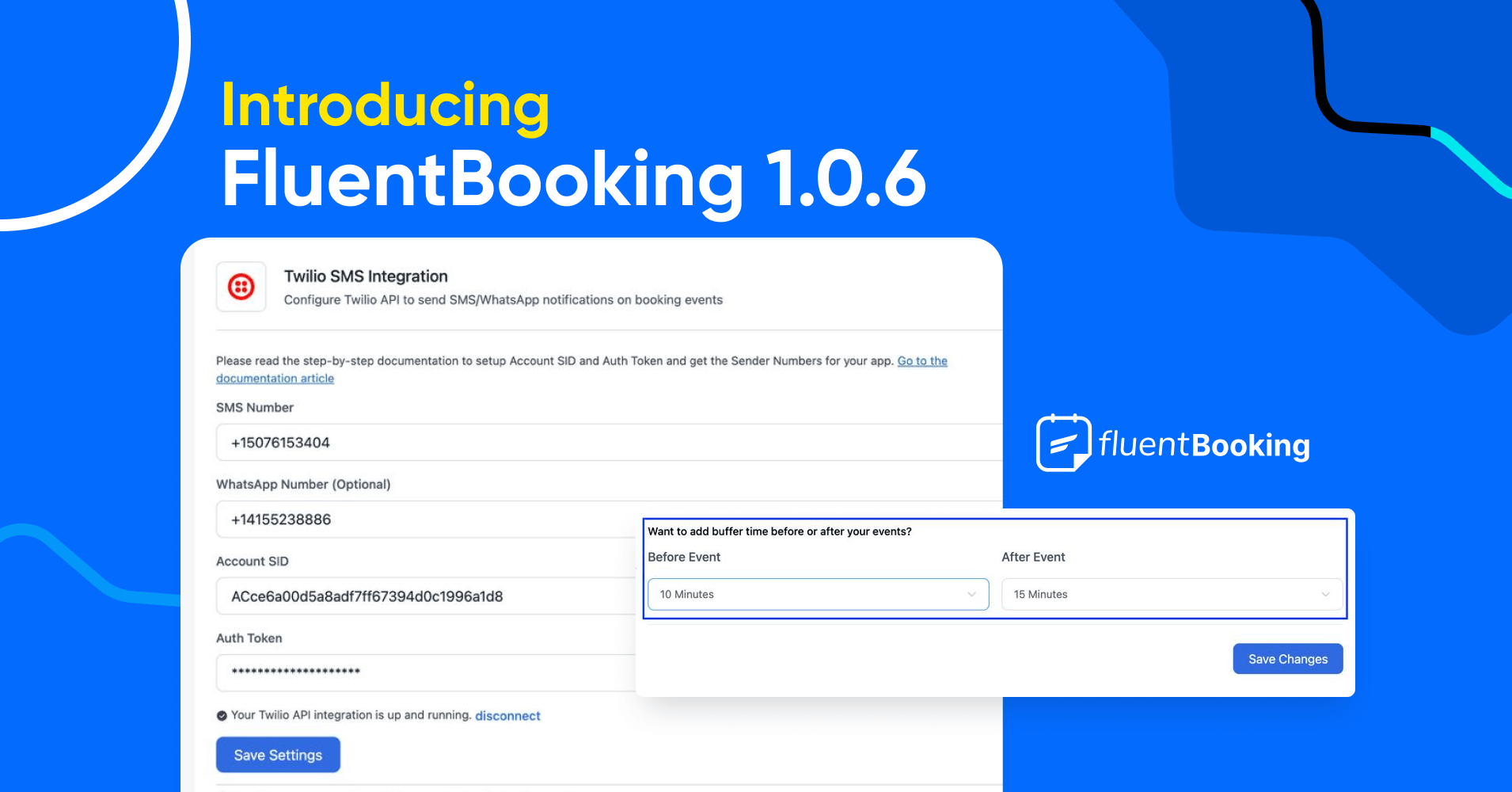 FluentBooking 1.0.6: First Bunch of Fresh Features —including SMS Notifications, Buffer Time, and More!
Subscribe for weekly email
We won't send you spam.
It's been only a week since we launched FluentBooking.
And the response?
It's been nothing short of astounding —shattering all our previous first-day sales records. If you're one in our community, you already know, we have sold 65% of our LTD copies available!

50% Off Lifetime Deal
We have sold 65% of the earlybird LTD copies and only a few copies are up for grabs. So, if you haven't purchased your copy already, Hurry up!
FluentBooking is one of our most ambitious projects —especially because of how important it is as part of our ecosystem. We believe in – progress, improvement, and user satisfaction and FluentBooking's development will play a key part in ensuring that.
This is why we try to meet your expectations as much as possible. So, here we are, back again, as promised, with even more thrilling features!
What's inside FluentBooking 1.0.6?
Twilio Integration: Send reminders and notifications via SMS & WhatsApp
Buffer Time: Have breathing space between meetings
Translation-Ready: FluentBooking's strings are 100% translation-ready so you can start using it in your own language
Booking Rescheduling Email: Set up a booking reschedule email so attendees know if the meeting was rescheduled
Fixed: Multiple location selection issues
Fixed: Minor UI & responsiveness issues
Twilio Messaging: SMS Notifications for seamless scheduling
We lead busy lives, and keeping up with appointments and schedule changes is crucial. That's why we allow you to send automated email notifications.
But, even emails can be missed or skipped!
Imagine being instantly alerted about a new booking, a change in appointment, or a timely reminder – all via SMS?
As FluentBooking prioritizes efficiency, we added an SMS by Twilio feature – it allows both the admin and scheduler to get instantly notified on your mobile phone about any appointment updates.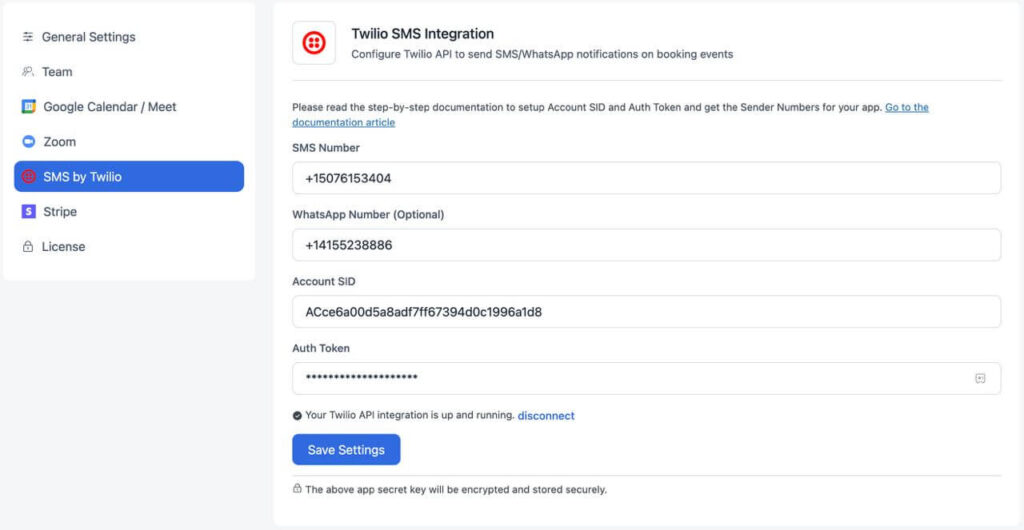 So, with this update, your hassle of scrolling through emails or missing updates will be over. Because, SMS notifications are instant and direct, ensuring you're always in the loop.
Buffer Time: Have breathing space between meetings
Most experts suggest that breaks lead to higher productivity. Thus, taking breaks between your appointments will ensure maximum efficiency. We understand the value of these short moments of relaxation, and that's why we've introduced buffer times for adding breaks before and after each appointment.
Now, how much break time you can take?
Well, it depends on you. Let me show you how: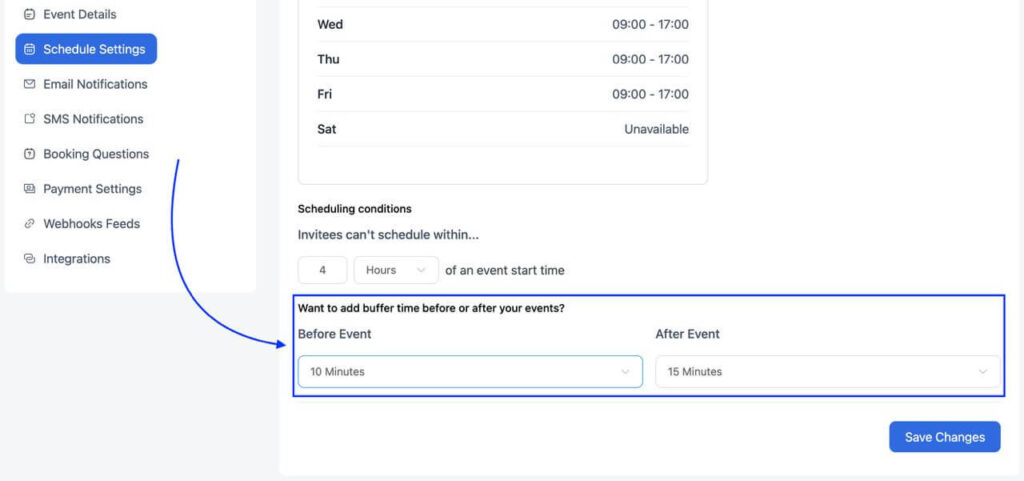 As the above image shows, you can decide the duration of your break times, whether it's a few minutes to refresh or a bit longer to recharge!
The scheduling is entirely up to you —ensuring it caters to your preferences and your client's needs without any disruption or dissatisfaction.
Translation-Ready: Translate FluentBooking to any language!
Accessibility should never be a barrier. We are committed to ensuring every user, regardless of their language background, can access and use the plugin. Considering that, we decided – FluentBooking must speak in your preferred language.
Thus, our developers have utilized translatable strings within the source code to help people translate FluentBooking. Now, we just need some translators to help us globalize FluentBooking!
Bug fixes and improvements
While FluentBooking is one of our most ambitious projects, it is still taking baby steps. Fortunately, you kept reporting bugs and suggested improvements to help us enhance the plugin.
Addressing those, our team solved most of those issues to ensure the best experience for the users. Here are the highlights:
Added External location details, such as Zoom links, custom addresses, and phone numbers, to Google Calendar events
Added a current date highlight feature to the calendar, making it easier for users to identify the present date and plan accordingly
Fixed the Multiple Locations selection issue, improving the accuracy of location-based bookings and quick access to meetings from any location
Minor UI and responsiveness issues have been resolved now elevating overall UI performance
Fixed timezone-related issues on availability, ensuring that appointments were scheduled correctly across different time zones
Reminder email notification-related bugs have been fixed to ensure users receive timely reminders
Fixed the Google Access Token issue, ensuring smooth integration with Google Calendar
Launch updates
Since our massive launch, FluentBooking has been the buzzword!
We are astonished by how people have embraced FluentBooking and we can't thank you enough. Our team has been working round the clock to give you the best user experience possible and I just wanted to share some amazing stats so you know what we're building together.
FluentBooking Earlybird LTD campaign is our best launch campaign ever, surpassing all first-week launch sales records by 20% 🚀
FluentBooking is the community buzzword now, with more than 400+ conversations across different social media communities
Our public roadmap is live. Now you can view upcoming features and suggest new features using our public roadmap
We have received 100+ feature requests for FluentBooking since launching the public roadmap 3 days ago (Good luck sorting them R&D team! 😉)
Thousands of people are trying FluentBooking demo already!
Note: FluentBooking LTD launch is our best LTD campaign ever and we have already sold 65% of the LTD copies. So, if you haven't purchased your copy already, Hurry up!
What's next?
Our mission is to ensure that the scheduling journey is smooth, efficient, and perfectly aligned with your business objectives. To make this a reality, we're tirelessly committed.
In FluentBooking 1.0.6, we've introduced exciting features designed to elevate your scheduling experience. Receive the convenience of SMS notifications, curbing no-shows, and the flexibility of buffer time to take a break between back-to-back meetings.
But here's the exciting part – we're just getting started. More features are about to be released in the coming days.
You can check our roadmap to find which features are in the pipeline. Also, feel free to suggest new features because together, we will make FluentBooking smarter!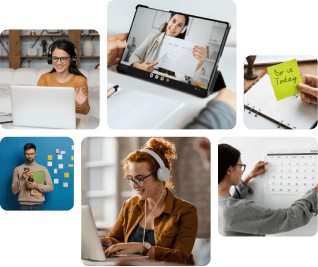 Book appointments the Fluent Way!