Subscribe for weekly email
We won't send you spam.
It's been two weeks since FluentBooking launched and there is no sign of slowing down. 85% of the LTD copies are already sold and our team is working faster than ever!
We promised to build fast, and here we are…another week, another update!
Today, we will unveil FluentBooking 1.1.0. This version includes one of the most powerful features and you've been asking for it since day#1!
Ready to find out what it is?
Let's get started!
Note: We may close the LTD after this launch. if you haven't purchased your LTD copy yet, buy now!
WooCommerce Integration
Yes, you read it right!
WooCommerce is the most powerful e-commerce platform and anyone who wants to sell appointments can benefit from its wide range of payment gateways. Now, you can use WooCommerce to sell your time!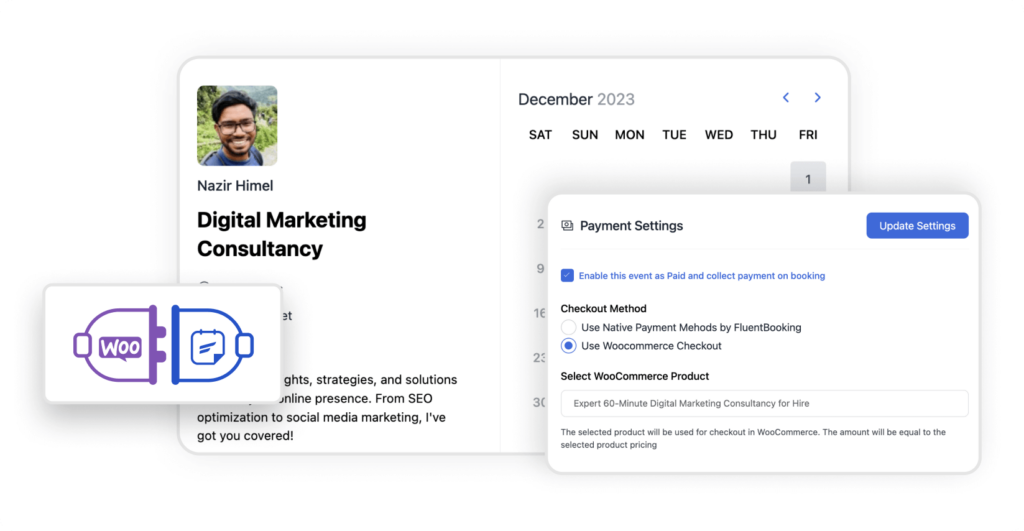 To integrate WooCommerce with FluentBooking, go to Settings and click Global Modules. Then, simply toggle the button to enable FluentBooking's WooCommerce integration.
Once you've enabled WooCommerce integration, you can link WooCommerce products with FluentBooking calendars. For example, let's say you have a calendar for which you want to set up WooCommerce payments.
To do so, you'll need to go to WooCommerce and create a product. Here's one we've created:
Next, click the Edit button under your calendar to bring up the calendar settings.
Finally, click the Payment Settings tab and check the Enable this event as paid and collect payment on booking checkbox. Then select Use WooCommerce Checkout radio field and choose your newly created product from the product list.
By linking your appointments to a WooCommerce product, you're all set to collect payments using WooCommerce payment gateways.
Once set up, your users will be redirected to the WooCommerce checkout page where they will be able to complete the booking by paying using WooCommerce.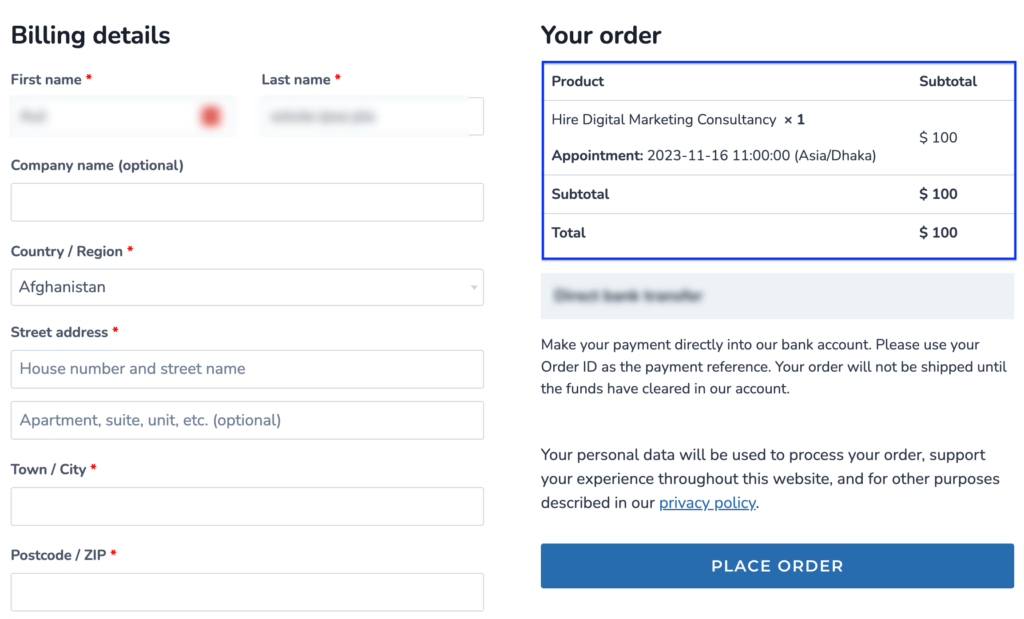 Personalization shortcodes for FluentCRM
As a marketer, you wouldn't want to miss out on a single chance to personalize your marketing emails. What if you could use FluentBooking's personalization shortcodes when running an automation with FluentCRM?
Think of this, your client books a meeting with you, and after an hour, gets an email with pre-meeting details and an appointment upsell which is as personalized as it can be!
I know, this sounds too good to be true…
But not when you're using Fluent plugins!
We have further tightened FluentBooking's integration with FluentCRM so that you can automate hyper-personalized emails to your audience. Now, if you create an automation with any FluentBooking triggers, you'll be able to see and add FluentBooking personalization shortcodes inside your emails.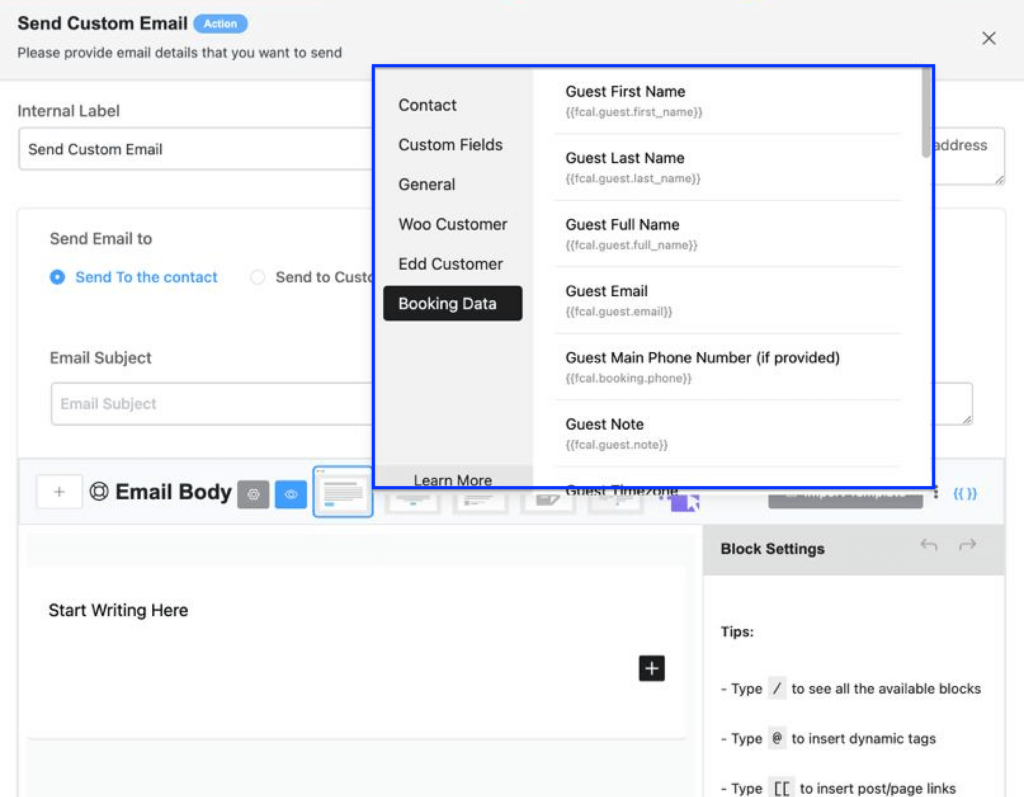 So go ahead and take advantage of this feature right away!
Fluent Forms Conversational Form support
Imagine how awesome it would be to book an appointment in a conversational manner?
Again, sounds extraordinary for a brand new plugin, right?
Fortunately, these are too easy when you're in the Fluent eco-system!
Yesterday, our Fluent Forms team added conversational form support for FluentBooking. As a result, you can add FluentBooking calendars to your conversational forms.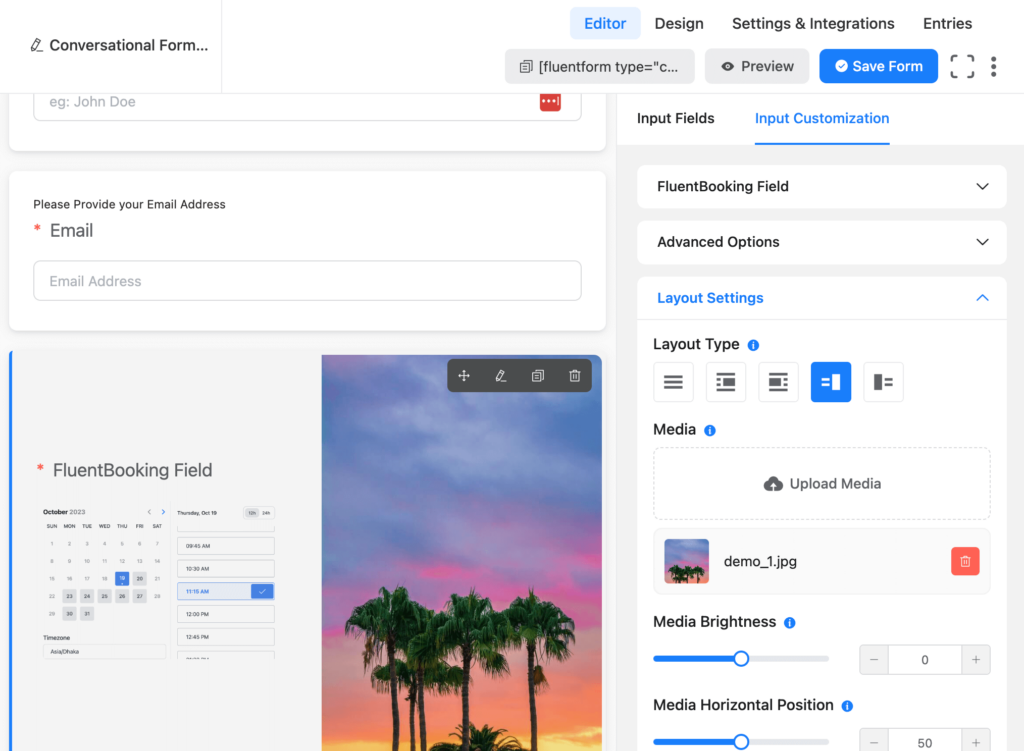 This enables you to create high-converting appointment booking forms like this: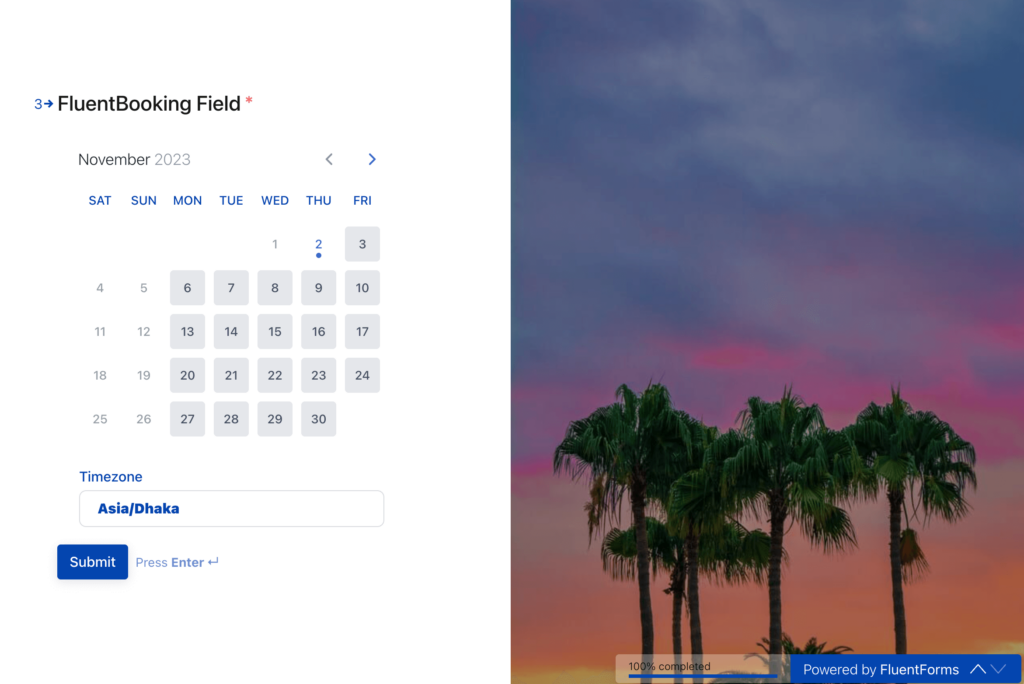 Beautiful, eh?
Clone Calendars
With FluentBooking, you can create a booking calendar in seconds. However, that doesn't mean you'll always create one from scratch. Sometimes, you just want another calendar with a different Title and description, and other times, you want to ask different questions.
With the latest FluentBooking 1.1.0, you can clone calendars as you like. For that, simply click the three dots(…) of the calendar you want to clone and click Clone.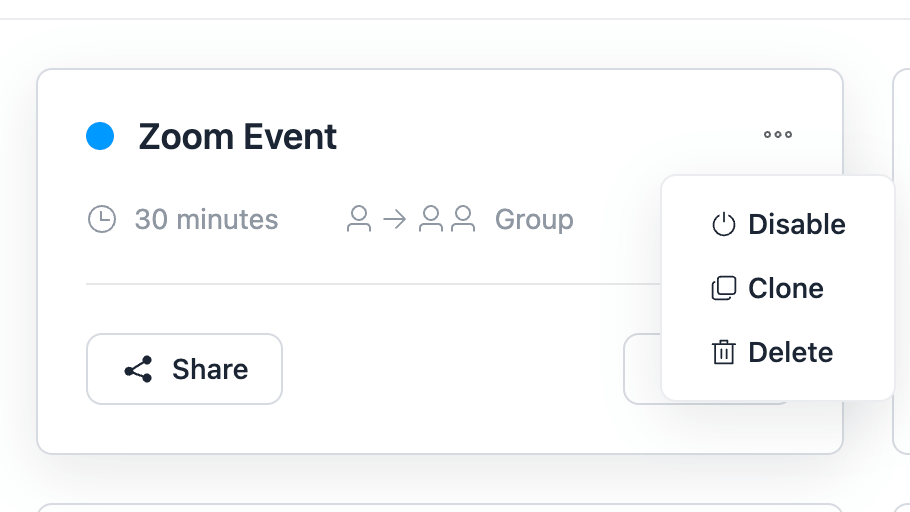 Added missing translation strings
While our primary language is English, we're aware that many of our users want to offer their calendars in other languages. That's why accessibility has become one of our top concerns after launch.
Though we tried our best to make sure FluentBooking was 100% translatable in our last version, we missed some strings. In this version, we added the missing translation strings. We have also packed the French language file with this version and now, French speakers will be able to use the tool in their own language!
Want to help us translate FluentBooking?
Simply get in touch with me!
Bug fixes & improvements
As promised on the FluentBooking launch, it's one of the tools that'll help us advance towards our vision and we want to give you the most dynamic appointment booking experience. However, we certainly don't want you to run into any problems.

We prioritize FluentBooking's performance and reliability and that's why FluentBooking 1.1.0 includes some bug fixes and improvements. These include:
UI/UX Improvements: Some mobile UI/UX issues and desktop UI issues were fixed
Calendar Title issue fixed: Some calendar titles weren't updating. Now, it'll work as it should!
Booking Permission issue: Despite giving all permissions, some users were experiencing view permission issues with FluentBooking. We've fixed the issue.
LTD closing soon…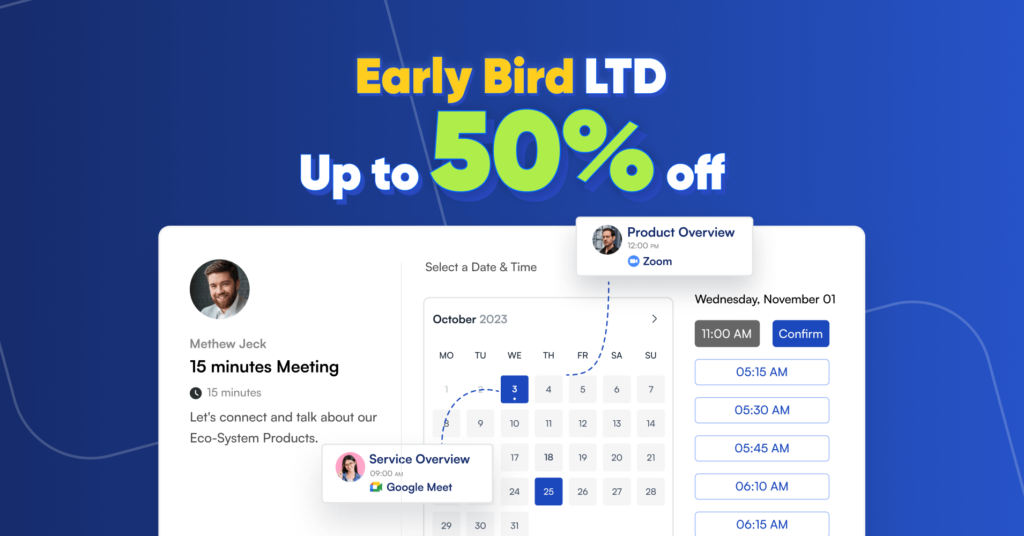 Thanks to our crazy brand advocates, FluentBooking LTD has already become our most successful campaign of all time. Just to remind you, we have sold 85% of the early bird LTD copies.
Just like FluentCRM, we may not have an LTD after this launch. So make sure you get your LTD copy before our offer expires. Trust me, the LTD will become one of your most successful investments.
More to come!
We promised you more payment and calendar integrations when we launched FluentBooking. And this WooCommerce integration is just a baby step.
FluentBooking is new, but the company behind it isn't a new name. Our fast and experienced development team will keep rolling out more powerful features as we progress and we will make sure your investment pays for itself.
If you want to know what's in the pipeline, you can check out our roadmap. And if you want to suggest new features, we are all ears!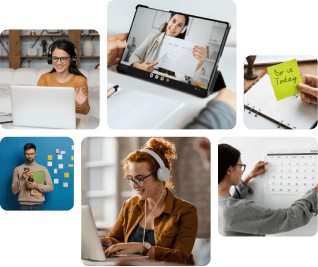 Book appointments the Fluent Way!