Subscribe for weekly email
We won't send you spam.
Missing an appointment or a schedule is a big deal whether or not you run a business. And magical tool like Cal.com is a blessing in this regard!
Cal.com has changed how we manage our time and juggle our events or appointments. It's an open-source infrastructure that lets you host your own scheduling tool or build scheduling into your own product.
However, Cal.com isn't the only tool to help you with your events and plans. Besides, since it's a SAAS tool, you have to leave your WordPress dashboard to use it every time, which might not be as convenient for WordPress users!
So, wouldn't it be great if you could run and monitor your whole booking and scheduling process within WordPress?
Luckily, we have multiple WordPress plugins that make appointment scheduling online easy. And right now, FluentBooking is the best scheduling tool that you can get your hands on!
Let's explore why you might need an alternative to Cal.com and why FluentBooking could be the perfect solution for you!
Why look for a Cal.com alternative?
Cal.com comes with a user-friendly interface and features. But it also has some constraints that make users want to look for an alternative.
The generic link sent to recipients still requires them to go through a few hoops before getting to meet you. The Schedulers also need to adjust their own calendar and your open slots.
So, it's just not perfect all the time! And, looking for an alternative is not a crime!
Let's have a close look at the pros and cons of Cal.com for a better understanding –
| | |
| --- | --- |
| Pros | Cons |
| Multiple meeting types | Customization is limited in the free version |
| Dynamic integrations | Pricing tier is confusing to some |
| Time zones | Many advanced features require paid plans |
| Automated reminders | Limited CRM integration |
| Easy interface | No free trial option |
Pros and cons of Cal.com
Why FluentBooking is a top Cal.com alternative?
If you are a WordPress user, go for FluentBooking without a second thought!
But, why?
Well, FluentBooking is a dedicated WordPress booking and scheduling plugin that ensures a seamless scheduling and booking experience within WordPress. With FluentBooking managing availability, exchanging emails back and forth, confirming appointments, and rearranging schedules – It all feels like a full-time job!
FluentBooking also integrates with Google Calendar, Google Meet, FluentCRM, etc., and makes everything smooth for you. Many more features will be unlocked in the coming days.
Let's see, what FluentBooking has to offer to the WordPress community!
Key features of FluentBooking
Here's a list of features that sets FluentBooking apart from Cal.com and many other SAAS tools or plugins for scheduling and appointments.
Unlimited hosts and calendars: Make as many calendars and schedule all you want because FluentBooking has no limit to hosts or calendars!
Meetings: Customize unlimited meetings – One-on-one, one-to-many, Google Meet, In-person meetings, etc
Availability management: Attendees can pick a time to meet with you and you can set up your availability. Display real-time availability and avoid double-booking.
Google Meet integration: Create and manage meetings or appointments in Google Meet
Phone Call Meeting: Manage meetings made through phone calls
Custom meeting link: Share a customized personal link
Google Calendar integration: This integration is a 2-way sync
Zoom integration: Manage meetings arranged in Zoom
Stripe payment: Easy payment method using Stripe
FluentCRM integration: Send email reminders, sync email data, or add people to the mailing list using FluentCRM
Fluent Forms integration: Generate leads through Fluent Forms and gather attendee insights
Automated notifications and reminders: Automate booking confirmation emails, meeting reminders, booking cancellation emails, and more
Date overriding: Control your availability by overriding a pre-defined date or time
Shortcode compatible: Use the shortcode anywhere on your website
Booking management: Manage past and upcoming events and get detailed booking info
Multiple locations: Automatic conversion to respective time zone
Rescheduling: Cancel or reschedule meetings and notify recipients
Report and analytics: Get all booking reports and analytics organized in one place
Booking page: Customize a booking page to fit the brand
Calendar integrations: Integrates with Google Calendar and Outlook
Intuitive interface: Easy and interactive interface so clients face no trouble
Responsiveness: Makes sure the booking pages don't break down on any display
Everything in sync: Keep calendars, CRM, and your team members in sync
Even with all these features, FluentBooking is still not done! Pretty soon there will be more features and integrations. For example, integration with Twilio is coming soon.
Discover more about FluentBooking features
Wrapping up
While Cal.com has been a popular choice for a long time, FluentBooking offers some more unique features and flexibilities that cater to various business needs.
If you prioritize simplicity, customization, and multiple useful third-party integrations, FluentBooking should be your go-to option.
We suggest checking out FluentBooking since it's giving all the popular SAAS and WordPress scheduling tools good competition!
Try it out and have full control over your appointment management process.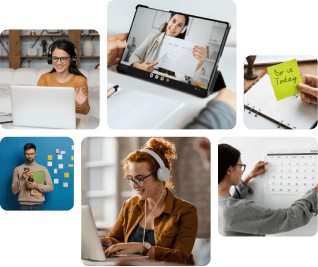 Book appointments the Fluent Way!