Subscribe for weekly email
We won't send you spam.
Hello, fellow WordPress enthusiasts!
We hope you're doing fantastic and thriving in your endeavors. Today, with this post, we want to assure you once again that WPManageNinja, your trusted supplier of WordPress plugins, hasn't lost sight of its vision or mission.
From 2015 to the present day, our goal remains unchanged: we step into the shoes of our users, identify their pain points, work tirelessly to solve them, and help small businesses bridge the gap between where they are and where they want to be.
We've never stopped asking "why"!
From 2015 to the present day, our goal remains unchanged: we step into the shoes of our users, identify their pain points, work tirelessly to solve them, and help small businesses bridge the gap between where they are and where they want to be.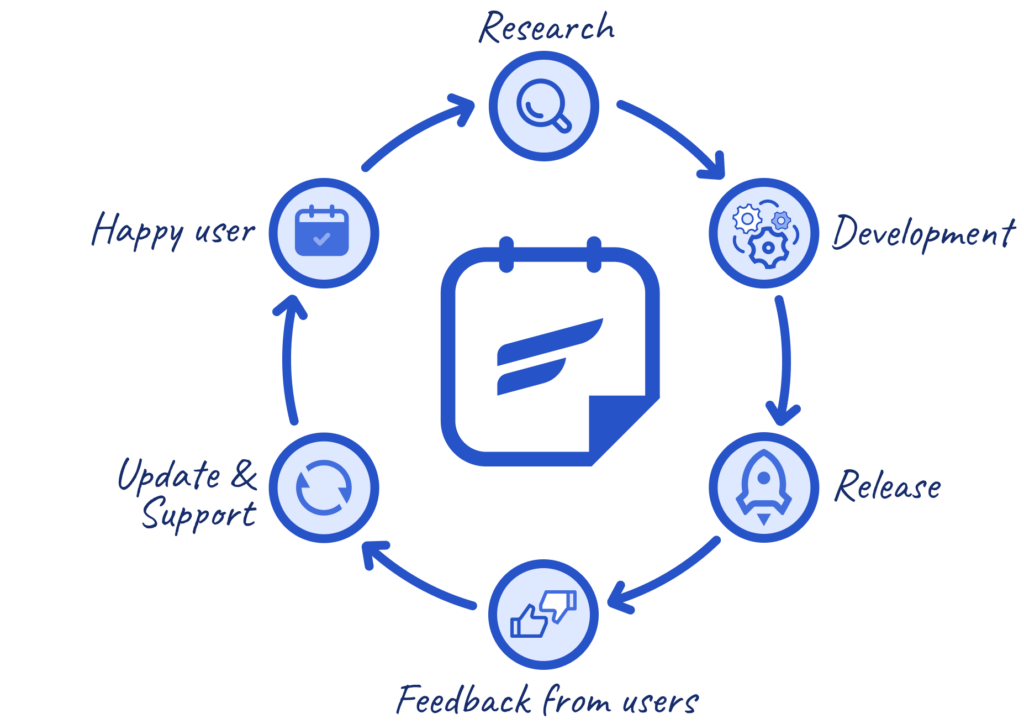 And, on our ongoing journey to enhance WordPress every day, we are thrilled to introduce our latest addition, a plugin designed with you in mind —a plugin engineered to alleviate your everyday scheduling and booking challenges: FluentBooking!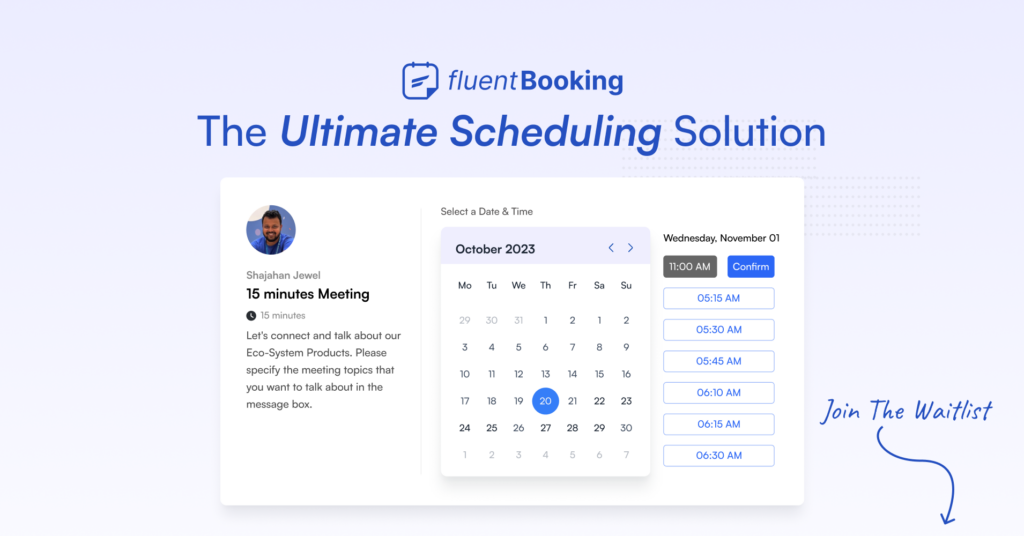 However, at WPManageNinja, our primary focus is always on "why." We believe our users deserve to know the story behind our actions more than anyone else. That's what this post is all about!
So, let's delve into the reasons that motivated us to create this WordPress booking and scheduling plugin.
But before we begin, let's take a quick trip down memory lane and revisit the journey of WPManageNinja.
The journey of WPManageNinja: Transforming from a service business into a thriving WordPress plugin venture
It all began back in 2015 when we assembled a team of dedicated problem-solvers who considered tackling issues as their favorite game. Yes, you read that right! We initially started as a technical service provider business.
However, our unending curiosity and relentless pursuit of answers began to push us beyond our comfort zone. While we were busy addressing our users' concerns, we soon realized that providing temporary solutions wasn't the path to long-term user satisfaction!

We had discovered, that what we needed to do was bring some real value into the equation. So, we rolled up our sleeves and dove deep into the heart of our users' issues!
It didn't take long for us to realize that there were numerous ways we could provide lasting solutions and make WordPress a more user-friendly platform for everyone. And this realization prompted us to venture into WordPress plugin development!
What came next?
Well, our journey turned out to be far more challenging than we could have ever imagined. We encountered initial struggles and failed in some of our endeavors, but one thing remained constant —our willingness to embrace challenges and our unwavering commitment to learning!
It was these very challenges that fueled our growth and kept us thriving. Fast forward to today, we are proudly serving over 6,00,000 businesses with our dynamic plugins!
More than a hundred people are now tirelessly working for WPManageNinja to enhance the WordPress experience for our users.
Here is a glimpse of the story of ours:
Ninja Tables

Right after stepping into the WordPress realm, it became crystal clear to us that there was a dire need for a user-friendly table builder plugin. In 2018, we made the bold decision to create and launch our very own table builder plugin, Ninja Tables.
And as they say, the rest is history!
The WordPress community wholeheartedly embraced our product and showered it with unconditional love. Today, Ninja Tables stands as a market leader in its niche, serving over 80,000 small businesses.
Fluent Forms

Fluent Forms holds a special place in our users' hearts, and we're not just saying that! The statistics speak for themselves – more than 300,000 businesses have placed their trust in this incredible plugin!
Now, let's delve into the story of a strong "why" that propelled us forward!
Whether it was about gathering basic information or generating leads, having a reliable form plugin was non-negotiable. Unfortunately, we discovered the solutions available in the market at the time were slow, complex, and came with hefty price tags.
That's when we decided to come forward with a solution that was easy to use, budget-friendly, and designed to drive business growth. And thus, Fluent Forms was born!
FluentCRM

Email marketing is undoubtedly the most profitable marketing channel, boasting an impressive ROI of $42! However, that's only one side of the coin! In reality, we came to understand that email marketing demanded a significant initial investment —making it out of reach for many small businesses. And we set out to solve this problem!
Our mission was clear: make email marketing affordable for everyone. That's when we introduced our most dynamic and ambitious plugin, FluentCRM.
Today, FluentCRM proudly serves nearly 40,000 businesses in their daily email marketing efforts for just $129 per year!
FluentSMTP

During the development of FluentCRM, we encountered yet another unavoidable issue!
While WordPress is a dynamic content management system with numerous advantages, it also has its share of shortcomings —especially when it comes to sending emails.
Emails sent directly from WordPress often found their way into the spam folder. We initially figured out, to rectify this issue, the use of an SMTP plugin was a must. And, these plugins came with additional costs, driving up the expense of email marketing.
So, we made a pivotal decision to step in with FluentSMTP and offer it to the community for free (Yes, you read it right!). Fluent SMTP is our gift to the community, and it will always remain free. And for this reason, over 1,00,000+ users have adopted FluentSMTP in no time!
Other plugins
Our portfolio isn't limited to the plugins we've mentioned above. In fact, we've always been on the lookout for various challenges and identified numerous problems across different domains. As a result, we've developed a diverse range of plugins, including:
And here in 2023, we proudly introduce our latest addition to this lineup, our newly born plugin, FluentBooking!
What is FluentBooking?
FluentBooking is a WordPress booking and schedule management plugin. It is specially designed to simplify meeting management for any kind of business.
With FluentBooking, we're on a mission to revolutionize how businesses handle appointments, bookings, and schedules online. Whether you're a service provider, an online course creator, a consultant, or a small business owner, this plugin is tailored to streamline your operations and elevate your customer experience.
Here's what you can expect from FluentBooking:
Effortless scheduling
Dynamic meeting management
Fully automated workflows
Real-time availability
Data synchronization with tools you use
Detailed insights
This dynamic plugin is engineered to make booking and scheduling as easy as taking a sip of water. FluentBooking is here to handle all your scheduling needs, from sharing availability to managing appointments and beyond!
Here's a quick peek at its key features:
Unlimited hosts: Add as many meeting hosts and team members as you need, allowing people to book appointments with them
Multiple meeting types: Whether it's one-on-one, one-to-many, in-person meetings, or phone call meetings, FluentBooking has got you covered
Automated email & reminders: Automate booking confirmations, meeting reminders, cancellation emails, and more
Appointment management: Effortlessly access detailed appointment information and manage past and upcoming events with ease
Time zone management: Enjoy the convenience of automatic time conversion to match your local time zone
Appointment rescheduling: Easily reschedule or cancel meetings and automatically notify recipients via email
Attendee insights: Gather valuable information about your attendees to kick off your meetings fully informed
Honestly speaking, FluentBooking is more than just an appointment plugin! It's a powerful tool that is going to simplify your scheduling process and enhance your business operations.
Why did we build FluentBooking?
Now, let's dive into the most interesting part: why we decided to build FluentBooking!
As we've emphasized before, the "why" behind our plugins holds significant importance, and FluentBooking is no exception! To summarize the driving forces behind FluentBooking's creation, we can narrow it down to three key points:
1. Providing a dynamic booking solution to the community
As we were running our businesses successfully, a crucial truth became evident: effective communication is the cornerstone of any thriving enterprise. And it became crystal clear to us that seamless booking and scheduling plays a vital role in achieving this.
So, we started searching for a solution. But unfortunately, we couldn't find a top-notch WordPress booking plugin.
Yes, there were several great and popular appointment and booking plugins available in the WordPress ecosystem. But to be honest, none of them were anywhere near SaaS solutions. In fact, we didn't even find a good scheduling plugin to meet our needs.
We saw a gap, a big one, and thought our community deserved better! So, we rose to the occasion and decided to build a dynamic booking plugin for us as well as for our community.
Thus, FluentBooking was born to revolutionize your scheduling and booking within WordPress.
2. Existing customer's demand
Our users are our top priority! We never want to dismiss their requests!
And, it's fair to say that the significant interest expressed by our users for a booking and scheduling plugin played a crucial role in the creation of FluentBooking.
We received numerous requests for an appointment and booking plugin from our existing customers, especially from users of Fluent Forms and FluentCRM. They were looking for an efficient booking solution that they could tie to those plugins to streamline their business.
So, we took action and made it happen!
3. Advancing toward our vision
From day one, our core goal has been to help small businesses thrive. We've stayed true to this mission over the years! And FluentBooking represents another step in building a complete business solution for small enterprises.
It is easy to use and requires no admin work. You can have multiple users and guests with you at any type of meeting. The plugin can be used as a standalone tool and you can even tie it to FluentCRM or Fluent Forms for greater functionalities.
That said, FluentBooking is a huge leap toward our vision of making small businesses' lives easier!
But how does it all fit together?
Imagine you're running an online business. You're collecting leads with Fluent Forms, and nurturing your customer relationships with FluentCRM. Now, your potential customers want that final one-on-one meeting before making the final call.
How do you streamline this critical process?
Well, here's where FluentBooking comes in!
It allows you to effortlessly schedule meetings with your customers, receive timely reminders, adequately prepare, and be punctual for those crucial meetings that seal the deal.
Doesn't that sound fun?
Thus, FluentBooking makes this Fluent ecosystem more fluent!
The Future
FluentBooking is one of the most complete solutions we've ever developed. We are confident that our users will be able to fulfill their scheduling needs with this plugin.
But if you know WPManageNinja, you know we don't settle for anything less than what our users deserve. Hence, we will continue to develop this plugin at a rapid rate.
Just like our other plugins, this plugin has its own individual team that'll develop features as they speak. We already have a lot of features in the pipeline and are open to any suggestions you make.
As it stands, we are super excited about FluentBooking. We can't wait to reveal what FluentBooking has to offer!
We are grateful to you!
Till now, the journey of WPManageNinja has been a dream! We've achieved many milestones we couldn't have even imagined when we first started, and it's all because of you!
The love and support we've received from our users and the entire WordPress community have been truly incredible. This support has been the driving force behind us, keeping us dedicated to our mission and committed to meeting your expectations.
We are immensely grateful for this support, and it will always hold a special place in our hearts.
We hope you will keep doing the same for FluentBooking too. We have made it with love, affection, and dedication. And when something is crafted for a greater purpose, it never fails, right?
Thank you for taking the time to listen to our story. Wishing you all the best in your WordPress journey!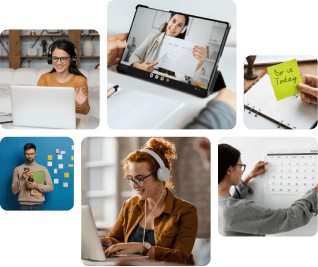 Book appointments the Fluent Way!
Leave a Reply
Good job.Maybe this will be my first step to invest in your product.Let see…

Good Luck with this. Can you tell me if Fluent Bookings will also cater for 'Events'. As currently I use WP Amelia for my appointments and booking software, but where their appointments management is quite good, the Events side is still lacking in many desired features. So if you guys intend to cover Events with FB then that will make the product extra appealing for me! Thanks

Currently we are focusing appointment scheduling and later will expand the solution for other booking types like events.

Can't wait to see this come out! Great news!

We are also super excited!

Wishing you guys great success with the new booking plugin. A great addition to WpManageNinja's portfolio of excellent products!

Thank you so much Michael Fidelis

Hola excelente noticia y cuando sera la fecha de salidad del complemento

We will announce the release date very soon